Content provided by Dr. Rick Starlin.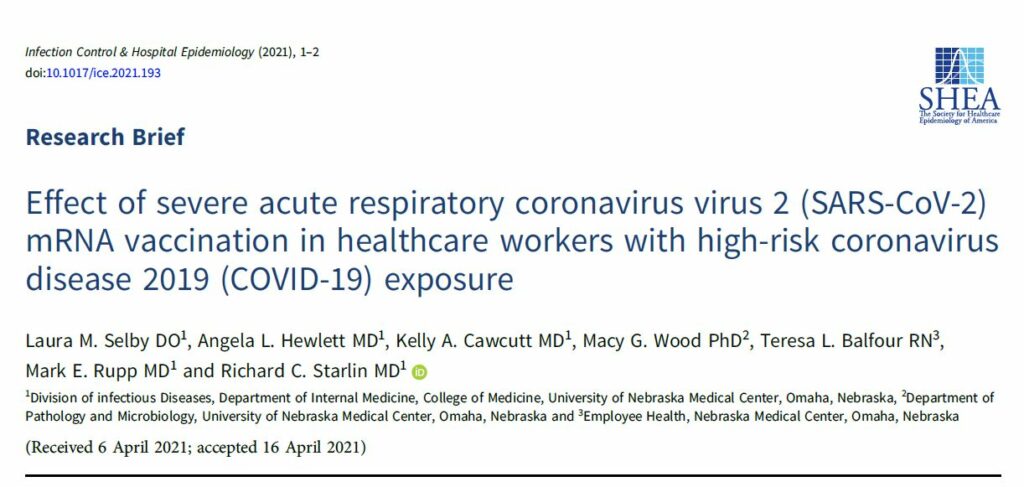 Household contacts to active SARS-Cov2 to infectious cases has been identified as a significant risk factor for acquisition of infection since early in the pandemic. We identified this as one of our biggest risk factors for colleague acquisition of SARS-CoV2 to infection at Nebraska Medicine as well. This brief report written by a team from Nebraska Medicine/UNMC, shows our experience of our colleagues with household contacts post vaccination. This suggests several important points of the pandemic and fully healthcare providers. The vaccines are very effective (we are ready knew that) however breakthrough cases have been reported. Household contact remains a significant risk factor in these breakthrough cases. As the United States and other locations open up society, we need to keep in mind that all contacts to infections are not equal and consideration for household contacts and needing close monitoring and testing is still warranted. The single biggest thing healthcare providers can continue to do to protect themselves, their families, their colleagues and their patients is to not only get themselves immunized but to get their families immunized, especially their domestic partners. We have continued this program and more data will soon be available.
Read the full article here.
undefined