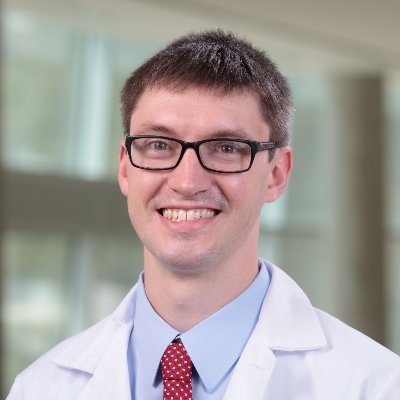 The following content was provided by graduating UNMC ID fellow, Dr. Jonathan Ryder (pictured left).
Dr. Ryder will be transitioning to an instructor faculty position at UNMC. Congratulations Jonathan!
"As the seasons change, sometimes they blur together, nearly indistinguishable from each other. Yet, some seasons have such stark contrast, it's hard to miss the transition. As I approach another transition in my life, the end of infectious diseases fellowship and the start of a career, I imagine the transition will be simultaneously smooth and jolting.
The first day as an unsupervised attending physician, questioning my own decision-making. The first research project as the primary mentor, looking for the next steps. Learning new leadership roles. Being seen as an expert. Managing meetings and lectures with clinical duties and projects. These new roles and duties may be a bit jolting at first.
While these parts of the future feel daunting, I'm re-assured by the superb training I've received, which gives me confidence the transition will be quite smooth. I have already been afforded opportunities to act as the attending. I have worked with invaluable mentors who have paved the way for me to conduct further research as part of a team. Further, I know I have many mentors I can fall back on with questions, as truly the journey has just begun. I've already been juggling multiple responsibilities for the past several years. Ultimately, as I will be staying at UNMC, I already am familiar with many of the processes and the environment.
So, what does my future hold? I will be transitioning to an instructor faculty position at UNMC. This position affords me the opportunity to focus on research endeavors within my interests of antimicrobial stewardship, infection control, and medical education. Clinically, I will serve in the realm of general infectious diseases in both the inpatient and outpatient settings. I'm greatly looking forward to this wonderful opportunity to build my clinical, educational, and research toolboxes.
As I reflect on the past 2 years, I am grateful to have trained in the UNMC ID fellowship program. I am appreciative of the many patients who have taught me so many lessons through their own difficulties and successes. Additionally, it is hard to say enough about the faculty who have trained me. I'm lucky to continue my journey at UNMC and continue to be around people I respect and trust, as I am certain to face difficult situations in the future for which I will need their help. Lastly, my co-fellows have been supportive, inspirational, and a joy; I'm honored to be their colleague and look forward to seeing what they are able to accomplish in the future."
– Dr. Jonathan Ryder, Graduating UNMC ID Fellow, June 2022