At IDWeek 2018, the annual conference for the Infectious Diseases Society of America, I was struck by one simple truth.
We are still talking about washing our hands, or in our professional lingo, hand hygiene.
Hand hygiene is the simplest, most effective way to prevent infection. Most of us know this intuitively, without the science, as we grew up being reminded by our parents and teachers to wash our hands. It simply makes sense. Our hands are the most exposed part of our body and are in constant contact with our non-sterile environment (fecal veneer, anyone?). If someone does not wash their hands in the restroom, we are aghast. Don't they realize that is a health risk?
This issue even resulted in an #IDWeek2018 Twitter post regarding the excellent hand hygiene in the restrooms.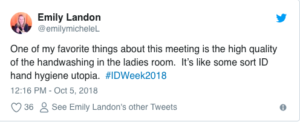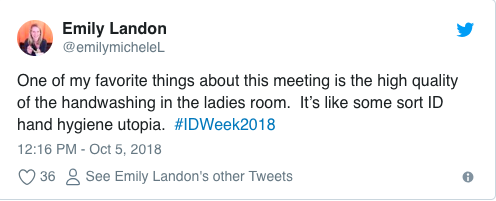 Consider that, excellent hand hygiene noted by healthcare workers, as compared to what? Their home, hospital or clinic? Where else do they observe more hand washing?
We take those hands and feed ourselves, our loved ones. We provide care, and perform procedures and surgeries (with gloves as further protection, of course). But since 1847, when Semmelweis demonstrated the value of hand washing, we have struggled to have full compliance with hand hygiene in healthcare. In the face of the continual fight against sepsis, still we talk, study, and publish articles on the importance of hand washing.
The simplest thing. Wash your hands. Or now, use the hand sanitizer. Before and after patient care. Before eating, after using the restroom. It takes 15 seconds or less, depending on the method. It is so easy. Session discussions included ideas on how to monitor hand washing – direct observations on the unit? App use for recording hand hygiene opportunities? Technology on badges or door frames? Silent monitoring on sinks? Why on Earth would we still need sessions on achieving adherence with hand hygiene in 2018? Why do we not all simply do what we know is best for the health of ourselves and our patients?
This, my friends, is where sociology, more specifically, sociobehavioral science comes into play.
There may be ample science showing the benefits of handwashing. There are pre-created campaigns for handwashing (5 Moments of Hand Hygiene from WHO), and even specific marketing focused on hand hygiene. Not to mention the seemingly endless amounts of hand sanitizer and sinks with soap that can be found in every hospital.
It turns out that knowing the science and being reminded is simply not enough. A four-hour workshop led by Dr. Julia Syzmczak (University of Pennsylvania) at IDWeek entitled "Changing Hearts and Minds: A Sociobehavioral Approach to Antimicrobial Stewardship and Infection Prevention" focused on the fact that science and education do not necessarily equate to behavioral changes in humans (improved hand hygiene). How we as humans behave in a hospital is subject to the same sociologic pressures as the rest of the world. We are not robots, we are humans. We are subject to the impact of perceptions and perceived culture. And if I learned anything, I learned that culture will beat science EVERY DAY OF THE WEEK when it comes to human behavior.
So, what does this mean for us? Do we stop trying? Do we stop innovating?
No, of course not. But, we need to stop forgetting that the successful implementation of science and best practices carries a wild card with it – humanity.
Medical care is increasingly complex, fast-paced and full of "priorities" for providing state of the art care. The reality is, not everything can be a priority. In a realm of competing priorities, how does a single provider pick which priority is actually most important? Will preventing infection via handwashing always fall at the top of the priority list? Should it?
Where do we go from here? The answer, I believe, is as infectious diseases physicians, healthcare epidemiologists, infection preventionists, healthcare providers and patients, we must give human behavior and sociology, an equitable seat at the table with science.
We need to address the competing priorities, study and understand the behaviors we want to change (not always washing your hands) and why that behavior exists. Then focus our interventions on the behavior itself. Science and education are critical to this role; but can no longer be touted as the holy grail of implementation. We need to consider human nature, the social constructs of our institutions, our organizational 'culture.'
It is crucial that we embrace the sociologic components of healthcare as we strive to continually provide the best possible care for our patients.
Why? Because in the end, we are all patients.
And as your patient, I want you to wash your hands.
Written by Kelly Cawcutt, MD. Post originally published on Doximity.