The CDC estimates 30% of all antibiotics prescribed in outpatient setting in the US are unnecessary. Similarly 30% of antibiotics used in hospitals are estimated to be unnecessary or incorrectly prescribed. Inappropriate antibiotic prescribing in long-term care facilities have been found to be even higher in some studies (up to 75%). Improving antibiotic use is essential in the fight against antibiotic resistance. In the US, more than 2 million illnesses are caused by antibiotic resistant bacteria, leading to 23,000 deaths annually. Antibiotic use is also strongly associated with C. difficile infection which is another major public health threat. C. difficile infections are responsible for 250,000 illnesses requiring hospitalization or affecting already hospitalized patients and leads to 14,000 deaths each year in the US.
Antibiotic use in Nebraska is reported to be higher than the national average. Prescribing providers and healthcare institutions in Nebraska realize the need to pay attention to this important issue. Our colleagues at Nebraska Antimicrobial Stewardship Assessment and Promotion Program (ASAP) with the support of Nebraska DHHS Healthcare Associated Infections (HAI) prevention team have been working with various healthcare facilities across Nebraska to improve antibiotic prescribing. There are many other organizations in the state collaborating with the Nebraska DHHS HAI team and Nebraska ASAP for the same goal. It is quite evident that healthcare facilities and prescribing providers are on-board in promoting appropriate antibiotic use in the state and developing antimicrobial stewardship programs (ASP) in their facilities. However, they need some support and guidance on best implementation strategies and effective use of the resources.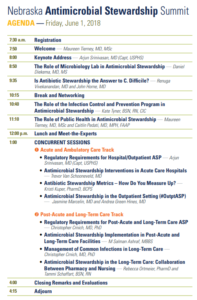 In order to meet the needs of healthcare facilities and prescribing providers in the state, Nebraska DHHS HAI team and Nebraska ASAP partnered with various local and regional organizations to organize a summit on antimicrobial stewardship. Nebraska Antimicrobial Stewardship Summit will be held on Friday June 1, 2018 in La Vista, NE. Many well known national and regional subject matter experts will be speaking at the summit. They will describe the rationales for developing ASP across the healthcare continuum. They will also outline simple strategies for ASP implementation in a variety of healthcare settings and share available resources to facilitate the process. There will be a networking session during the lunch, where attendees can find out how various organizations in the state can help them successfully implement ASP in their facilities.
The Nebraska Antimicrobial Stewardship Summit will be very helpful for any healthcare workers who are thinking about or already working on promoting appropriate antibiotic prescribing at their healthcare facility. Join us in the fight against antibiotic resistance! Register for the Summit at https://www.unmc.edu/cce/catalog/clinicmed/ne-as-summit/index.html. Follow @UNMC_ID on twitter for updates on #NebStewardSummit2018.
Content provided by Dr. M Salman Ashraf, Associate Professor, Division of Infectious Diseases, Department of Internal Medicine, Co-Medical Director, Nebraska Antimicrobial Stewardship Assessment and Promotion Program; Medical Director, Nebraska Infection Control Assessment and Promotion Program