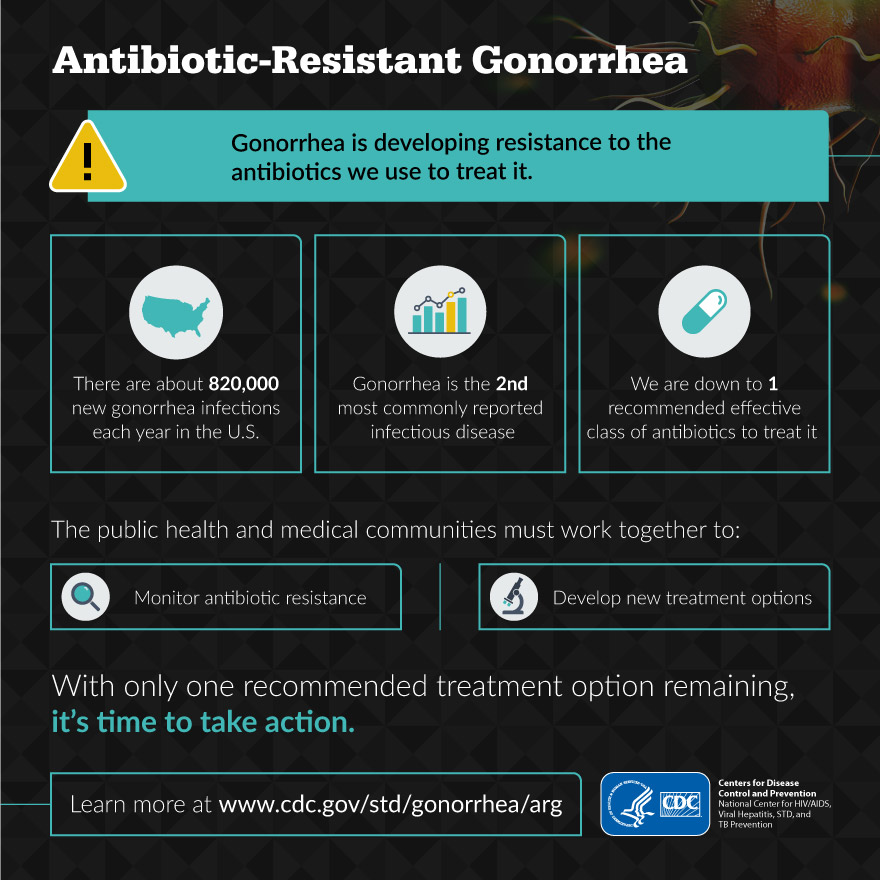 April is Sexually Transmitted Infection (STI) Awareness month  and there is a critical need to raise awareness toward preventing these infections in all our patients. In the past, most STIs were easily treated with readily available antibiotics, but unfortunately, the story of Gonorrhea has taken a turn down a frightening road.
Gonorrhea is the 2nd most commonly reported transmissible disease and therefore carries recommendations for annual screening among sexually active women < 25 years old and as needed screening for at-risk men and women with unprotected sexual encounters. Testing is simple and done with swabs or urine testing. Sexual partners within the last 60 days are at risk for infection and should be contacted and advised to seek medical care and presumptive treatment. The most recent CDC guidelines recommend treatment with both ceftriaxone and azithromycin, however, these options are starting to run out.
In late March, the UK reported a case of drug-resistant Gonorrhea acquired in southeast Asia that was resistant to, and failed treatment with, first line antibiotics (ceftriaxone and azithromycin) for Gonorrhea. Reports of ceftriaxone resistance have already been reported in several countries. The risk of the eventual emergence of untreatable Gonorrhea is real – and terrifying.
The CDC has been monitoring, and working to prevent, the evolution of drug-resistant Gonorrhea since the 1980's but it appears we are losing the battle. Resistance has been increasing overtime, with the loss of fluoroquinolones already complicating our current treatment strategies. If cephalosporin and macrolide resistance increase in prevalence, the treatment options are dismal.
So, where do we go from here?
The threat of antibiotic resistance is ever-looming and prevention of the spread of this organism is crucial. Counseling patients on safe sex practices cannot be overemphasized in its importance. Following guidelines for screening, reporting and treating are critical to surveillance and in preventing accidently under-treatment which risks creating increasing resistance patterns. More research is needed on other treatment possible existing treatment options, development of new antibiotics and there may be some hope of future vaccine prevention of gonorrhea.
Wondering how you can help today? Help us raise more awareness of this critical issue – share this information and the above resources with patients, colleagues and on social media.  A healthier future for all demands action now.