UNMC medical students, UNMC physical therapy students, Dr. Florescu, and I (Ada, Florescu, a University of Nebraska college student) all started working very early in the morning on March 19th in Managua, Nicaragua. Although it was early in the morning, the heat in Managua was unstoppable and there was no air conditioner anywhere to be found to prevent us all from sweating profusely. From 8 in the morning to 4 in the afternoon, we were dressed head to toe in scrubs and we worked profusely in them.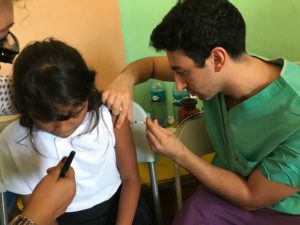 On the mornings of March 19th and March 20th, UNMC physical therapy students went to a local elderly home where they helped elderly individuals with joint pain. They helped educate these individuals on the importance of exercise and strength in order to improve mobility in tight joints and to relieve pain with time.
The medical students and Dr. Florescu went sent to houses in the community. These houses served as gathering areas for the locals in the community in order for them to receive their medication and treatment.
In the afternoon of March 19th, all groups of students switched locations. The physical students and the medical students joined together at a church where many children and adults waited in line for vaccines. Although the lines appeared endless and the heat blazed throughout the day, all of the patients received the treatments they needed.
In the afternoon of March 20th, all groups joined forces once again in a small office at a local school where lines of students kept forming despite the amount of children that we were seeing. It took a team to tackle that challenge but medical students were administering vaccinations while physical therapy students gave medicine as well as fluoride treatments to all the children.
Although it was a busy spring break for the medical and physical therapy students, no one could say it was anything less than rewarding. Early mornings, sweaty and hot conditions, crying children did not take away any of the value that this trip provided for us as humanitarians.
While working with Los Chavalitos Clinic sponsored by Country-Side Church of Omaha, Nebraska and directed by Dr. Patricia Largaespada, the overall treatments administered in a 3 day period were:
Oral anti-polio medication: 20 doses

Pentavalent vaccine : 2 doses

Pneumococcus vaccine

: 3 doses

Rotavirus vaccine: 2 doses

DPT: 28 doses

DT : 176 doses

Vitamin A  : 724 doses

Fluoride : 715 applications

Anti-parasite pills : 980 doses
Patients served:
Vaccinations, Vitamin A, Anti-parasites, Fluoride:  

989

PT services:                                                                     

 44

TOTAL:                                                                               1033
Nothing short of amazing occurs when groups of educated and willing individuals come together. This article reflected the work that was done in Managua, Nicaragua. There were 2 other groups of students and staff that dispersed to Esteli and San Marcos for the same duration of time.
Written by Ada Florescu.