Preparing for my 4-week advanced pharmacy practice experience at the Nebraska Medicine Specialty Care Clinic was slightly nerve-wracking if I am honest. In the days leading up to my start, trepidation creeped in as I considered the unknown of the experience. "What if I say something wrong?" "Will it sound false if I am trying to relate?" "I want to ensure they receive the best care- even from a student." These were just some of the thoughts I had running through my head. Thanks to my didactic education I felt confident my clinical knowledge would be up to the challenge of the rotation, but could I say that my patient care skills were equally ready? If I had to say at the time, maybe they were not as ready, but those questions of concern should not have been any different for this rotation than any other. Yes, this was a new patient population for me, and yes, I was new to them, but beyond that, my rotation at SCC still required the same care and approach as each one before it. In the end, my trepidation was minimized with some of my first patient interactions.
As a pharmacy student, my usual focus is on the safety and appropriateness of each medication prescribed. However, at SCC, each patient encounter goes beyond that. Each opportunity to interview, counsel, or make recommendations for a patient is an opportunity to learn about their experience, management of their diagnosis, and even trepidations about their diagnosis or regimen. Because for an HIV-infected patient, their diagnosis is only one portion of their life and as unique as the person themselves. They can be an individual who has managed their HIV for decades and seen the changes in treatment firsthand or another who is newly diagnosed, undertaking the beginning of their treatment, and still unsure of what to ask. It is because of their individuality as patients that I developed more as a care provider with each clinic day. I was continually amazed by each patient's willingness to keep an open dialogue and provide me, the student, with their perspective at the visit. It required patience and practice to adapt each care plan for the patient. I am confident I did not always hit every point, and once or twice, quote, "stepped in it" with my approach, but those were the days when I learned the most. In fact, so many of my experiences at the clinic ended up with my learning more from the patient than I had set out to share with them when I walked in the room.
And at the Nebraska Medicine Specialty Care Clinic, the staff is truly focused on complete care for each patient. It is not simply about keeping viral loads undetectable and CD4 counts high, but ensuring the continued health of their patients – both their physical and mental well-being is maintained and working as a team to do so. Every patient's care is managed from multiple angles thanks to the providers, nurses, pharmacists, clinic coordinators, social workers, and ancillary staff. No patient is the same and the staff's continued effort to maintain this perspective is exceptional. Even on days when the patient load is high and the hours are long, no one is forgotten or minimized. Care is provided until the last patient walks out the door. It is inspiring for students who are just beginning their careers to see such dedication and commitment to this patient population.
On my last day at SCC, I saw one of my patients from the first week of my rotation. A seasoned patient who had years of experience managing his diagnosis, but still some struggles along the way. I felt so honored to have been another contributor to maintaining his care at SCC. I had only a small role in his care, but the opportunity to hear his story, join in his management, and make a difference in his health was a satisfying culmination to four weeks of learning.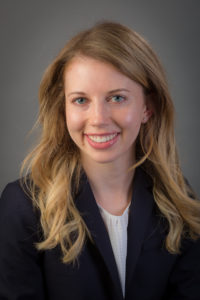 Content courtesy Lauren E Pohren, UNMC PharmD Candidate 2018