Research has long been an important part of the mission of the HIV Team at UNMC's Specialty Care Center For many years, clinic patients clinic have had the opportunity to take part in a variety of projects including interventional treatment for HIV, the study of comorbid conditions and opportunistic infections, and trials targeted towards HIV prevention.
Currently, our team has patients enrolled in eleven active studies:
Five trials currently involve providing innovative treatment for HIV through long-acting injectable medications given either every four or every eight weeks.
The addition of pharmacists to our staff has enabled us to initiate pharmacist-led studies, including prevention of HIV through pre-exposure prophylaxis (PrEP), increasing medication adherence by using telehealth services in rural areas, and the study of pharmacokinetics in transgender women receiving both PrEP and feminizing hormone therapy.
Teaming with the UNMC Department of Pharmacology and Experimental Neuroscience, we are examining the brain basis of HIV-associated neurocognitive disorder using MEG and MRI technology coupled with neuropsychological evaluation. An extension of this study involves looking at marijuana consumption and its effects on the brain in those living with HIV infection.
Working with the AIDS Clinical Trial Group of the NIH, the REPRIEVE study looks at using pitavastatin as a medication to prevent cardiovascular events in people living with HIV who are otherwise not at high risk for cardiac disease.
We feel fortunate to be a part of an institution that supports research and gives our patients the chance to be a part of the most up-to-date science in HIV care.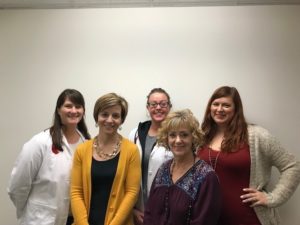 For more information about ongoing research studies at the HIV Clinic, contact Maureen Kubat, RN, BSN at mo.kubat@unmc.edu or Jen O'Neill, RN, BSN at jloneill@unmc.edu
Content courtesy Mo Kubat and Jen O'Neill