Today is Dr. Randy Fowler's last day as a fellow in the clinical microbiology laboratory.  His new position will be with the CDC as a laboratory leadership fellow.  Although the fellowship is managed by the CDC, Dr. Fowler will work at the Minnesota Public Health Laboratory where he will be focusing on national Carbapenem Resistant Enterobacteriacae (CRE) surveillance.
We would all like to extend our sincere gratitude for all of his work and support during his time here! If you see Dr. Fowler, please extend your thanks and well wishes today!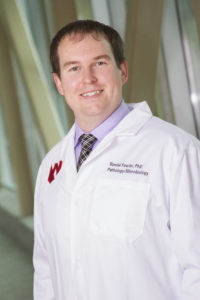 See more about Dr. Fowler and the Clinical Microbiology Fellowship here.