Dr. Luis Guzman on "Why I Love ID" and "Why UNMC ID?"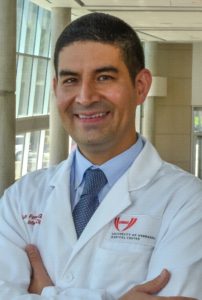 Infectious Diseases keeps  many clinical skills in practice. Any single detail of patient's life could be crucial to discovering the diagnosis.  Some of the most challenging diagnoses are infectious diseases. There is always a bug to catch and learn about, therefore visits to the microbiology lab are a fun complement to the clinical practice. Interaction with every single medical specialty is guaranteed with a career in Infectious Diseases. Finally,  remember ID will continually provide you with the opportunity to challenge yourself.
Having been part of UNMC as an Infectious Diseases fellow was the most important academic achievement for me. During my fellowship I had the privilege to learn from unique, worldwide  ID experts during rounds, lectures and research activities. I enjoyed running the stewardship program and participating in the infection control activities. I also had the opportunity to round in the biocontainment unit when Ebola patients were transferred to UNMC. The HIV outpatient clinic gave me the opportunity to have my own patients for 2 years. The program strongly encouraged me to participate of national meetings and present my research at annual meetings of  IDSA, SHEA and in a global transplant infectious disease congress.
Learn more about the UNMC Infectious Diseases fellowship here.
Content courtesy of Dr. Guzman.