Earlier this Month, WHO confirmed a case of Ebola related death in the Democratic Republic of the Congo. Although there is not a known widespread outbreak, such confirmations raise questions of  preparedness. Are you ready if there is another outbreak of Ebola or another highly contagious infectious disease? If you are not prepared, or unsure, training is available.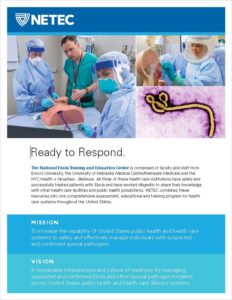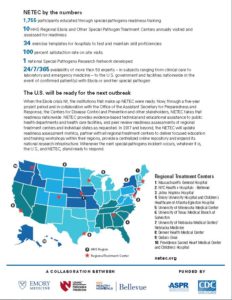 The National Ebola Training and Education Center (NETEC), leverages the expertise of three institutions that have safely and successfully treated patients with Ebola.  The National Ebola Training and Education Center has worked diligently to share its knowledge with other health care facilities and public health jurisdictions.
ROLE OF THE NATIONAL EBOLA TRAINING AND EDUCATION CENTER (NETEC)
In coordination with ASPR (Assistant Secretary for Preparedness and Response) and CDC (Centers for Disease Control and Prevention), the NETEC conducts site visits which can include direct training, readiness assessment, and technical consultation to assist healthcare facilities prepare for Ebola and other special pathogens.
READINESS ASSESSMENT
NETEC offers on site hospital readiness assessment to assist facilities in validating Ebola and other special pathogen preparedness plans. Readiness assessments generally consist of a team of faculty from the three NETEC institutions spending at least one day on site to help hospitals validate plans from pre-hospital arrival to patient discharge.
TECHNICAL ASSISTANCE/EDUCATION
NETEC faculty provide targeted technical assistance to hospitals through on-site individualized exercise training programs focusing on key topics such as management of the deceased, PPE, and infection control (to name a few). This assistance can also be provided utilizing distance learning technology depending on the needs of the requesting site.
TRAINING/EXERCISE DEVELOPMENT
Independently, or in conjunction with a readiness assessment, NETEC offers significant resources for emergency management exercise planning and development.  NETEC faculty can provide technical assistance while serving as on site evaluators/observers during an actual exercise and can act as subject matter experts during the planning phase of exercise development.  
NETEC also has HSEEP compliant exercise templates available online at www.netec.org that include essential components for a successful exercise.