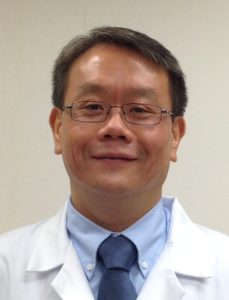 Please join us in welcoming Phil Chung, an Infectious Diseases pharmacist, to the Division of Infectious Diseases. Phil will serve as a pharmacist supporting the Community Outreach Pharmacy Coordinator for the Nebraska Antimicrobial Stewardship Assessment and Promotion Program (ASAP).
Tell us about your background:
Phil is originally from Hong Kong and en route to us here in Omaha he has live in several locations around the country including Brooklyn, NY; Lexington, KY; Cleveland, OH and most recently, Bronx, NY.
Why UNMC?
I was attracted to UNMC by the progressive nature of pharmacy practice in this institution. Secondly, my current position as a community outreach Antimicrobial Stewardship pharmacist for long-term care facilities and critical access hospitals is an exciting opportunity and relatively new avenue for ASP.
What about ID makes you excited?
There is a third party (the bug) in ID that needs to kept in considerations. Because of that, sometimes a little more thinking is required.
Tell us something interesting about yourself UNRELATED to medicine:
I have 2 cats. They are both great but both have issues (one with hairball issue and the other is overweight).
See more about the UNMC ID and ASP programs at: https://www.unmc.edu/intmed/divisions/id/index.html and http://www.nebraskamed.com/careers/education-programs/asp