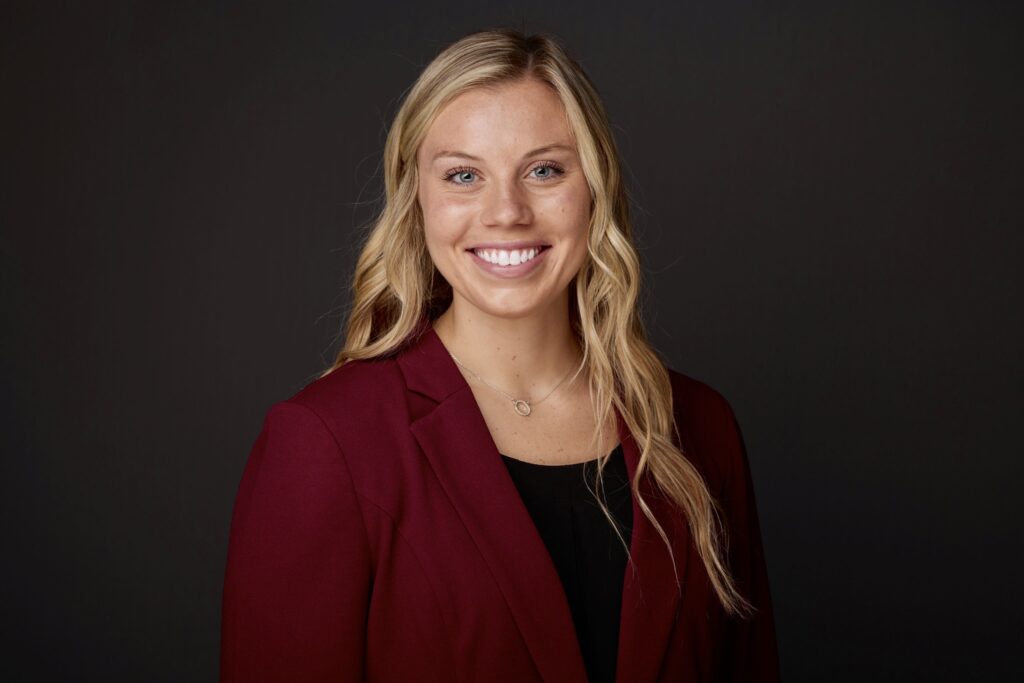 Part 2 of this #PharmToExamTable post explores treatment options for complicated ESBL UTIs, offers patient case examples, and was authored by Anna Rehberg, 2024 UNMC College of Pharmacy PharmD Candidate
Haven't read part one yet? Check it out here!
(Content reviewed by: Jenna Preusker, PharmD, BCPS, BCIDP, Scott Bergman, PharmD, BCIDP, and Nicholson Perkins, PharmD)
---
Fast Facts about ESBL UTI treatment:
People who have more healthcare exposure are more likely to get ESBL infections, but it can also be community-acquired.
ESBL-producing organisms cannot be treated with oral beta-lactam antibiotics. 
Guidelines recommend uncomplicated cystitis caused by an ESBL-producing organism be treated with oral SMX-TMP or nitrofurantoin if they are susceptible.
Guidelines recommend ESBL cUTIs and pyelonephritis be treated with oral SMX-TMP, fluoroquinolones, or IV carbapenems.
---
What are preferred antibiotics for the treatment of complicated cystitis and pyelonephritis caused by ESBL-producing organisms?
Treatment for complicated cystitis (cUTI) and pyelonephritis differ in terms of preferred antibiotics and duration compared to uncomplicated cystitis. Nitrofurantoin and fosfomycin cannot be used because they do not achieve adequate concentrations in the renal parenchyma.8,9
Preferred options to treat complicated cystitis and pyelonephritis include SMX-TMP, fluoroquinolones, and carbapenems.1 One study compared cure rates with ciprofloxacin 500 mg twice daily for 7 days to SMX-TMP 800-160 mg twice daily for 14 days.10 There were 255 premenopausal women analyzed in the study, with half in each antibiotic arm. Ciprofloxacin had cure rates of 99%, while SMX-TMP cured 89%. Of note, 24% of patients had side effects from ciprofloxacin, and 33% had side effects from SMX-TMP.10 Specific side effects and drug information can be seen in Table 2.
Another study compared IV levofloxacin 750 mg daily for 5 days versus IV levofloxacin 500 mg until clinical symptoms subside then transition to oral (PO) levofloxacin 500 mg daily for 7-14 days for the treatment of complicated UTIs and pyelonephritis.11 The five-day course of IV levofloxacin 750 mg daily had an 89.87% clinical effectiveness rate, and the 7 – day course of IV then PO had an 89.31% effectiveness rate, with both microbiological rates also being similar. These courses were deemed non-inferior, meaning the short course therapy of IV levofloxacin 750 mg daily can be utilized for treatment, meanwhile mitigating resistance.11 Of note, levofloxacin 750 mg and 500 mg has been proven to have 99% bioavailability in its oral tablet formulations compared to the IV option.12 With this study showing IV levofloxacin 500 mg for 5 days treats cUTI and pyelonephritis successfully, it can be extrapolated based on the bioavailability studies that oral levofloxacin can be used in place of IV. As most patients are initiated on IV antibiotics when admitted into the hospital, it would seem reasonable after the diagnosis of complicated UTI or pyelonephritis to switch patients to oral levofloxacin for the remainder of treatment, given the patient can take and absorb oral medications. However, these two studies did not include ESBL-producing organisms but are included in the ESBL-producing organisms treatment guidelines.1
Lastly, if the patient is critically ill, has a history of ESBL, or has resistance to fluoroquinolones and SMX-TMP, carbapenems can be used for treatment.1 However, time on carbapenems should be limited to save bacterial activity for future use by the patient.1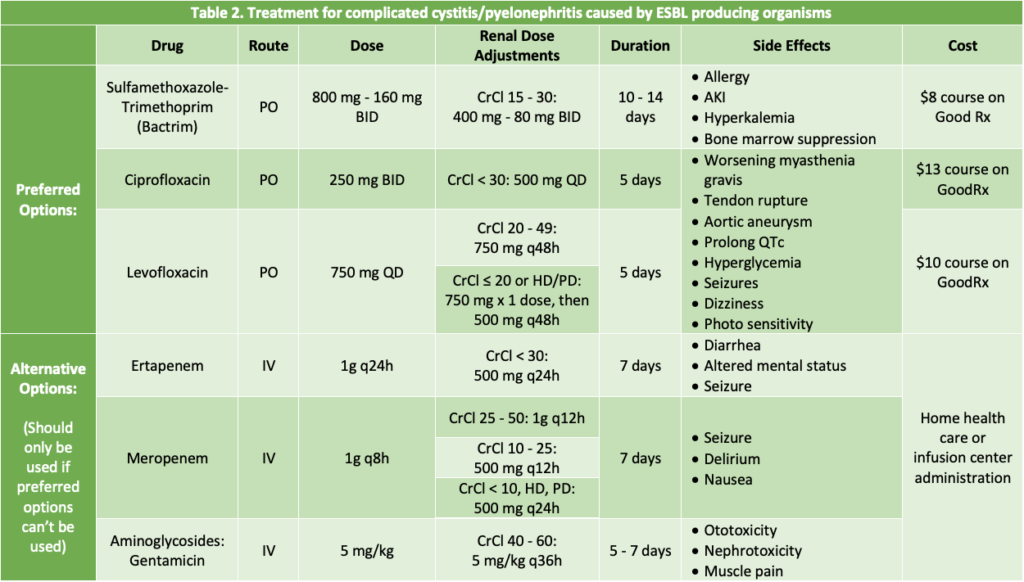 Patient Case Examples:
A 74-year-old female (weight: 90 kg) who lives in a nursing home, reports to her nurse that she is having new burning urination, nausea, incontinence, and lethargy. Her past medical history (PMH) includes COPD, CKD stage 3, osteoporosis, and a hysterectomy. Her urinalysis (UA) shows the urine is positive for nitrites and leukocyte esterase. The urine culture demonstrates ESBL Klebsiella oxytoca which has never been in her urine before. The patient reports unilateral lower back pain and has developed intermittent temperatures peaking at 38°C while receiving acetaminophen 1000 mg Q8H. The diagnosis for pyelonephritis is made by the medical team when the resident is asked for. No reported drug allergies or past use of antibiotics. What is the best antibiotic choice and duration for her?
Levofloxacin 750 mg PO daily for 5 days (preferred pyelonephritis treatment)
Nitrofurantoin 100 mg BID for 3 days (Beers Criteria)
Ertapenem 1g q24 hours for 5 days (Too broad spectrum & increased cost/burden of administration)
Ciprofloxacin 250 mg BID for 3 days (uncomplicated UTI treatment)
A 33-year-old female at the clinic reports she just got back from her vacation in the Maldives this weekend and reports burning urination, nausea, vomiting, and subjective fever. Her PMH only includes type 1 diabetes, with an A1c below 7% for many years. Her UA is positive for nitrites and leukocyte esterase. Her urine culture resulted as ESBL E. coli. No reports of back pain at the time. She said she's never had a UTI before and hasn't taken antibiotics for many years, but mentioned she is allergic to Sulfa drugs (reaction: difficulty breathing). What is the best antibiotic choice and duration for her?
Nitrofurantoin 100 mg BID for 5 days (Preferred uncomplicated UTI treatment)
Ertapenem 1g q24 hours for 5 days (Too broad spectrum & increased cost/burden of administration)
Levofloxacin 750 mg QD for 3 days (Not first line per ESBL guidelines & risky side effect profile)
Sulfamethoxazole-trimethoprim 800 -160 mg BID for 3 days (Allergic)
---
References:
Pranita D Tamma and others, Infectious Diseases Society of America 2023 Guidance on the Treatment of Antimicrobial Resistant Gram-Negative Infections, Clinical Infectious Diseases, 2023;, ciad428, https://doi.org/10.1093/cid/ciad428
Tamma PD, Smith TT, Adebayo A, et al. Prevalence of bla CTX-M Genes in Gram-Negative Bloodstream Isolates across 66 Hospitals in the United States. J Clin Microbiol 2021; 59(6).
CDC. ESBL-producing Enterobacteriaceae. Centers for Disease Control and Prevention. Published 2019. https://www.cdc.gov/hai/organisms/ESBL.html
‌Gupta K, Hooton TM, Roberts PL, Stamm WE. Short-course nitrofurantoin for the treatment of acute uncomplicated cystitis in women. Arch Intern Med. 2007;167(20):2207-2212. doi:10.1001/archinte.167.20.2207
Hooton TM, Scholes D, Gupta K, Stapleton AE, Roberts PL, Stamm WE. Amoxicillin-clavulanate vs ciprofloxacin for the treatment of uncomplicated cystitis in women: a randomized trial. JAMA. 2005;293(8):949-955. doi:10.1001/jama.293.8.949
Ito R, Mustapha MM, Tomich AD, et al. Widespread Fosfomycin Resistance in Gram-Negative Bacteria Attributable to the Chromosomal fosA Gene. mBio. 2017;8(4):e00749-17. Published 2017 Aug 29. doi:10.1128/mBio.00749-17
Huttner A, Kowalczyk A, Turjeman A, et al. Effect of 5-Day Nitrofurantoin vs Single-Dose Fosfomycin on Clinical Resolution of Uncomplicated Lower Urinary Tract Infection in Women: A Randomized Clinical Trial. JAMA. 2018;319(17):1781–1789. doi:10.1001/jama.2018.3627
Agwuh KN, MacGowan A. Pharmacokinetics and pharmacodynamics of the tetracyclines including glycylcyclines. J Antimicrob Chemother. 2006;58(2):256-265. doi:10.1093/jac/dkl224
Ten Doesschate T, Kuiper S, van Nieuwkoop C, et al. Fosfomycin Vs Ciprofloxacin as Oral Step-Down Treatment for Escherichia coli Febrile Urinary Tract Infections in Women: A Randomized, Placebo-Controlled, Double-Blind, Multicenter Trial. Clin Infect Dis. 2022;75(2):221-229. doi:10.1093/cid/ciab934
Talan DA, Stamm WE, Hooton TM, et al. Comparison of ciprofloxacin (7 days) and trimethoprim-sulfamethoxazole (14 days) for acute uncomplicated pyelonephritis pyelonephritis in women: a randomized trial. JAMA. 2000;283(12):1583-1590. doi:10.1001/jama.283.12.1583
Ren H, Li X, Ni ZH, et al. Treatment of complicated urinary tract infection and acute pyelonephritis by short-course intravenous levofloxacin (750 mg/day) or conventional intravenous/oral levofloxacin (500 mg/day): prospective, open-label, randomized, controlled, multicenter, non-inferiority clinical trial. Int Urol Nephrol. 2017;49(3):499-507. doi:10.1007/s11255-017-1507-0
Levofloxacin. Drugs@FDA. Revised June 2006. Accessed: September 5, 2023. https://www.accessdata.fda.gov/drugsatfda_docs/label/2006/020634s040,020635s043,021721s007lbl.pdf