The following reflection was provided by graduating UNMC ID fellow, Dr. Bryan Walker.
Dr. Walker will be transferring to the University of Tennessee Medical Center where he will be practicing in general infectious diseases! Congrats Bryan!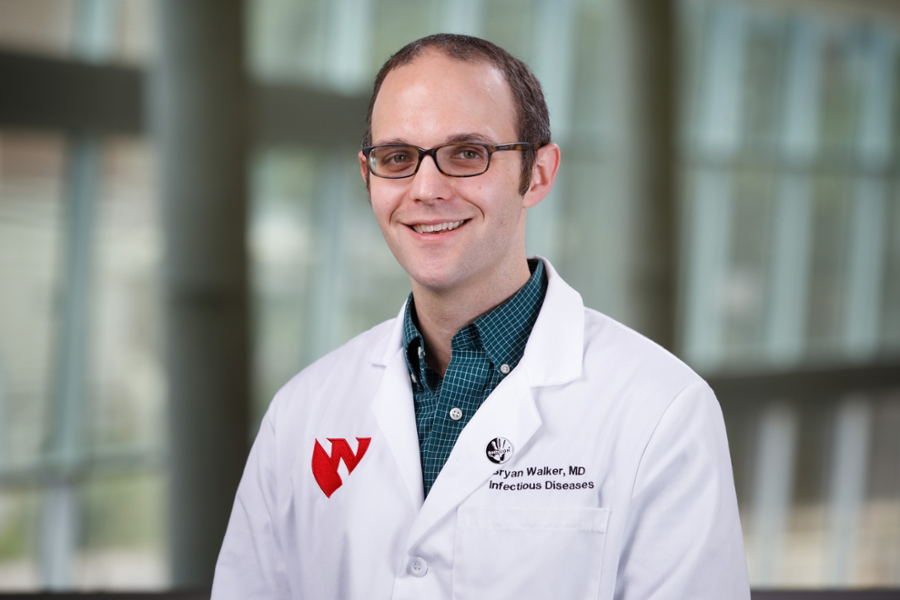 ---
Reflecting upon my time at UNMC as an infectious diseases fellow, I am struck by the amount of change experienced over the past two years.  I entered fellowship in the summer of 2021, amid the Covid-19 pandemic, and, like so many others, feeling a degree of fatigue. In addition, my wife and I moved from Tennessee expecting our first child. Although we knew we were going somewhere special for my training, uncertainty still loomed.
Thankfully, the life that my family and I were able to make in Omaha and the training I received at UNMC during these changes was remarkable. Upon our daughter's birth on July 8th, we almost immediately felt the support and goodwill, not only of the fellowship, but of the entire division. Faculty, staff, and co-fellows reached out to offer congratulations and support. Many of them I had not even met yet! My transition into my clinical rotations the following month was met similarly.
Early on in my training I learned that the system of support I found at UNMC was not only integral to my thriving in fellowship but was also invaluable in my becoming a competent infectious diseases attending physician.  From the microbiology lab to the bedside, to working with some of the most amazing attendings, pharmacists, nurses, care technicians, medical students, and residents, I am leaving fellowship with a breadth of knowledge and experience, confident and comfortable practicing and teaching in most clinical settings across varying patient populations. I have additionally gained colleagues and collaborators that I know will be with me throughout my career. Further, my time working across disciplines with our pharmacy colleagues on anti-microbial stewardship has left me comfortable in taking on the responsibility of being an anti-microbial steward. Finally, my time spent conducting clinical research while at UNMC has been transformative, informing not only my future research interests but how I utilize the literature to better inform my clinical practice. I know all of this will pay dividends as I head off toward the start of my career.
So much of medical training comes down to putting some part of life on hold in hopes of obtaining the preparation needed to effectively care for those in need and, like good campers, leaving the profession better off than when we found it. I think a concern we all face in training is wondering, at times, if it will all be worth it. In other words, we occasionally question if gambling on our future selves, teachers, and colleagues will pay off. Reflecting on the uncertainty present prior to the start of my fellowship and threading that through my time as an ID fellow at UNMC, I am so grateful that the answer to my question is a resounding yes.
– Dr. Bryan Walker, ID physician and graduating UNMC ID fellow, 2023