Please note that the following post was copied with permission from its original website. For more information about antimicrobial stewardship, check out the Nebraska Antimicrobial Stewardship Assessment and Promotion Program (ASAP) blog, Facebook, and Youtube page.
---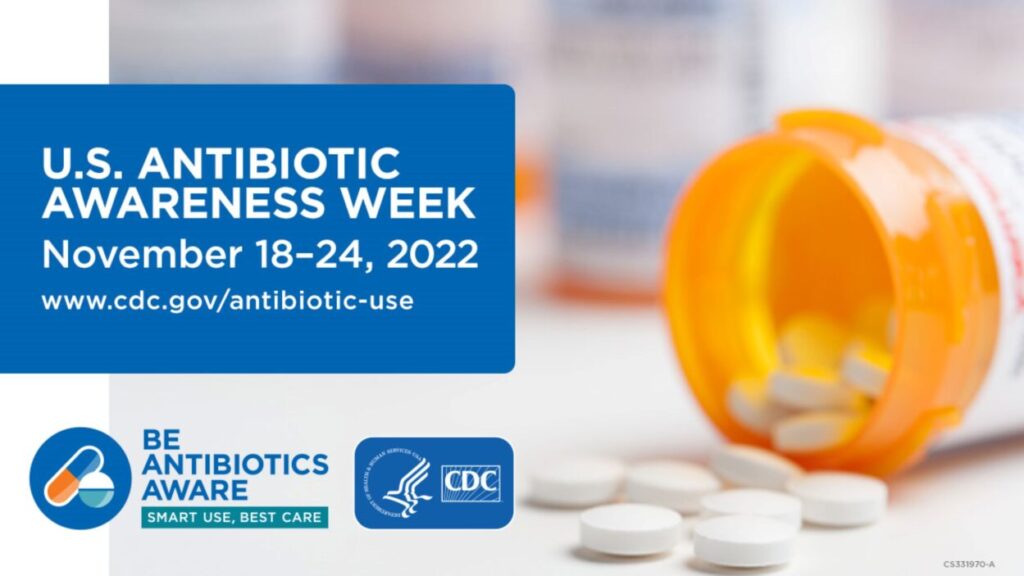 Are You Antibiotics Aware? U.S. Antibiotic Awareness Week is November 18-24, 2022
U.S. Antibiotic Awareness Week is an annual observance that raises awareness of the threat of antibiotic resistance and the importance of appropriate antibiotic use. The observance is a partnership between the CDC, state-based programs (such as the Nebraska Department of Health and Human Services, Healthcare-Associated Infections/Antibiotic Resistance Team), and non-profit/for-profit partners. The goal of this national observance is to improve antibiotic stewardship practices of both healthcare providers and consumers to achieve the best outcomes while minimizing untoward effects of antibiotic therapy.
CDC examined antibiotic prescribing and factors that influence prescribing practices such as provider type, geographic location, setting, and patient age to inform targets for antibiotic stewardship. A Mortality and Morbidity Weekly Report (MMWR) published in February 2022 evaluated publicly available data to better understand how antibiotics were prescribed for older adults (>65 years) in 2019. 1 The highest 10% of antibiotic prescribers prescribed 41% of total antibiotic prescriptions.
Outpatient Antibiotic Use in Nebraska
Outpatient antibiotic prescribing rates vary widely across the United States. This variation suggests that there are stewardship opportunities for healthcare providers, facility and healthcare system leadership, and other partners to improve how antibiotics are used. Monitoring of outpatient antibiotic prescribing data is regularly conducted by CDC to better understand trends in outpatient antibiotic prescribing, identify where interventions to improve prescribing are most needed, and measure progress.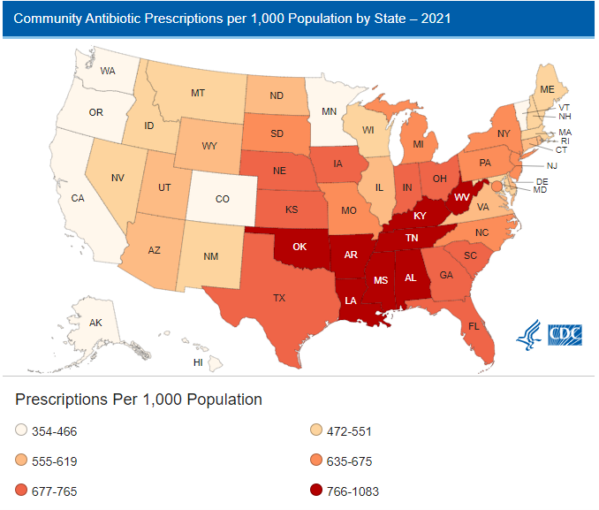 Nebraska has an opportunity to improve antibiotic prescribing across all types of practice settings, but especially in outpatient facilities. In 2021, Nebraska's prescribing rate was reported by the CDC as 760 prescriptions per 1,000 population. This ranks Nebraska 42nd in the nation. The lowest prescribing rate in the nation was 350 antibiotic prescriptions per 1,000 population – Nebraska was more than double that rate!
Hospital Antibiotic Stewardship in Nebraska
Hospital Antibiotic Stewardship Programs use the CDC's Core Elements of Hospital Antibiotic Stewardship as a framework for implementation. These seven Core Elements include: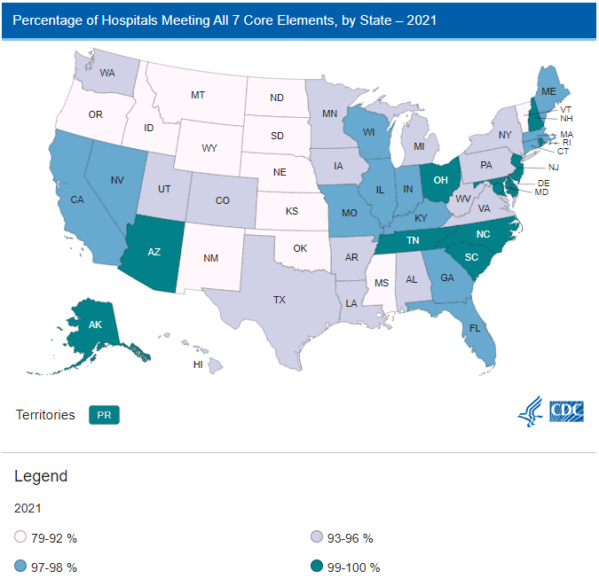 Hospital Leadership Commitment
Accountability
Pharmacy Expertise
Action
Tracking
Reporting
Education
As of 2021, 86% of hospitals in Nebraska reported meeting all seven of the Core Elements on the annual National Healthcare Safety Network Hospital Survey. This may seem like a large percentage of hospitals, but it ranks Nebraska 45th in the nation!
Nursing Home Antibiotic Use
Tracking and reporting antibiotic use in nursing homes is critical to monitor trends in antibiotic prescribing, inform opportunities to guide practice change, and evaluate the impact of stewardship interventions. CDC researchers evaluated the utility of electronic health record data to monitor antibiotic use and characterized antibiotic prescribing practices. Electronic health record data can be leveraged to support nursing homes in tracking and reporting antibiotic use.
Electronic health record antibiotic orders in 1,664 U.S. nursing homes were used to describe antibiotic use at the facility and national levels.5 In 2016, 54% of residents received an antibiotic. The antibiotic use rate was 88 days of therapy (DOT) per 1,000 resident days and the median antibiotic course duration was 7 days (interquartile range, 5–10). Antibiotic use rates varied considerably across nursing homes and were only partially explained by nursing home and resident characteristics, highlighting potential opportunities for targeted improvement of prescribing practices.
How can you help?
Be Antibiotics Aware, a CDC educational effort, complements U.S. Antibiotic Awareness Week by providing partners with up-to-date information to help improve human antibiotic prescribing and use in the United States.
The CDC invites healthcare stakeholders, providers as well as consumers to share the important Be Antibiotics Aware message during this week-long observance by
We look forward to your participation in U.S. Antibiotic Awareness Week from November 18 to 24!
---
Written by Jenna Preusker, Pharm.D., BCPS – Nebraska ASAP Pharmacy Coordinator
References
Gouin KA, Fleming-Dutra KE, Tsay S, Bizune D, Hicks LA, Kabbani S. Identifying Higher-Volume Antibiotic Outpatient Prescribers Using Publicly Available Medicare Part D Data – United States, 2019. MMWR Morb Mortal Wkly Rep. 2022 Feb 11;71(6):202-205. doi: 10.15585/mmwr.mm7106a3. PMID: 35143465; PMCID: PMC8830623
Antibiotic Use in the United States, 2022 Update: Progress and Opportunities https://www.cdc.gov/antibiotic-use/stewardship-report/current.html
TE OjPGVla