Content written by Drs. Van Schooneveld and Stohs.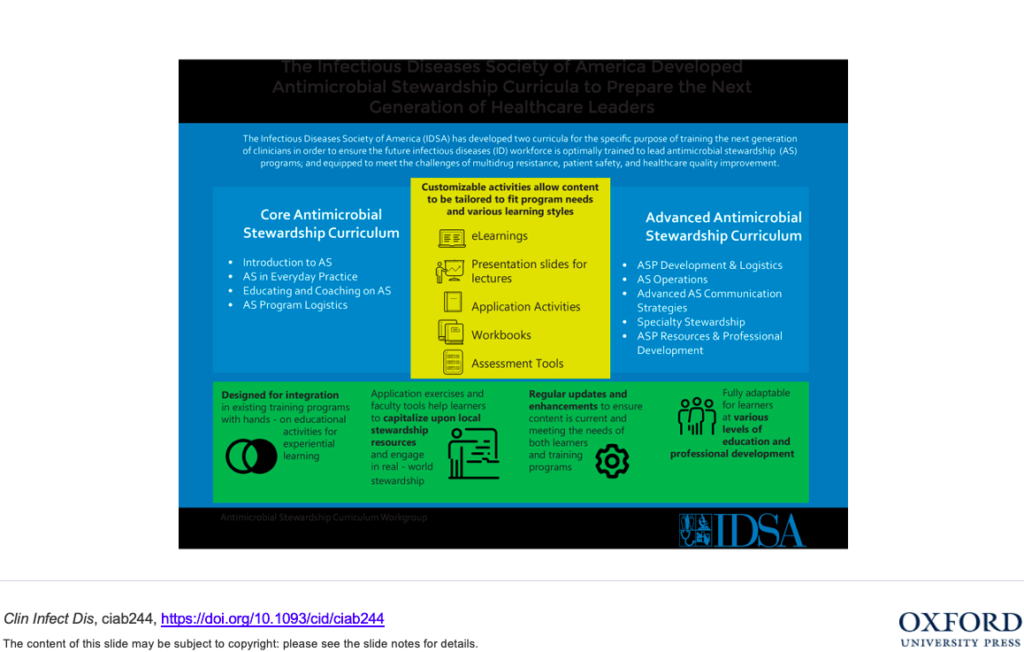 Antimicrobial stewardship programs improve patient outcomes, efficiency of care, and are a key tool in combating antimicrobial resistance. The field of antimicrobial stewardship is rapidly expanding and while ID fellows have the foundation for leading antimicrobial stewardship efforts, leading such programs require unique skills and knowledge. To meet this need, in 2016 the Infectious Diseases Society of America began to develop a curriculum designed to prepare fellows to lead antimicrobial stewardship programs. UNMC faculty and fellows have been involved in the development and evaluation of this curriculum with a description of the content development and purpose recently published in Clinical Infectious Diseases. The curriculum was created in two parts, a core and an advanced program. Both programs are designed to be integrated into ID fellowship and interactive online learning coupled with application exercises designed to be completed with local stewardship experts.
The core program lays the foundation for understanding antimicrobial stewardship exploring topics like the role of the microbiology lab in stewardship, how to apply stewardship principles to clinical situations, communication of stewardship recommendations, and program logistics. The UNMC fellowship program participated in the initial trial of the curriculum with local faculty with Jasmine Marcelin MD, Scott Bergman PharmD, and Trevor Van Schooneveld MD facilitating the training which included case-based learning, communications training, and role-playing of interactions with clinicians. Fellows found these communication training sessions particularly useful. The core curriculum is currently being updated and Dr. Trevor Van Schooneveld and Dr. Erica Stohs are assisting in this revision.
In addition to the core program, an advanced curriculum was developed targeted at fellows pursuing a career track in antimicrobial stewardship. This program focused on program logistics in much greater detail along with helping fellows understand the role of the stewardship program within the hospital leadership structure. Training was provided on how to "pitch" a program expansion to hospital executives along with advanced communication skills. Fellows were trained in how to go about implementing stewardship in specialized populations such as immunocompromised patients and unique settings such as long-term care, the emergency department, and ambulatory areas. Finally, career development resources were also provided. Dr. Van Schooneveld was part of the team which created the content on stewardship in specialized settings and populations and UNMC fellows have been piloting the advanced curriculum with Dr. Van Schooneveld and Dr. Stohs. IDSA reports that both the revised core curriculum and the advanced curriculum will be available this fall.
Read the full article here.
undefined