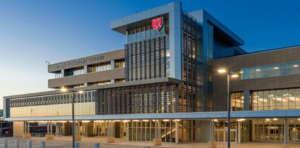 The University of Nebraska Medical Center (UNMC) is pleased to announce the opening of a tenure-track faculty position in Solid Organ Transplant Infectious Diseases in the Division of Infectious Diseases, Department of Internal Medicine. Successful candidates will hold an academic appointment at the assistant or associate professor level and will be employed by UNMC and Nebraska Medicine. Candidates should be Board Eligible/Certified in Infectious Diseases. Specialized training or experience in immunocompromised host ID is desirable.
A generous compensation package with salary commensurate with experience will be offered. Candidates should have an enthusiasm for patient care, teaching, and clinical research. Generous protected time and support are available in order to conduct collaborative clinical research and achieve the goals of the program.
Opportunity Highlights:
– Join a team of professionals – including ID Physicians, advanced practice providers, and clinical and research support personnel – dedicated to the care of patients who have infectious diseases complications associated with solid organ transplantations.
– Provide ID care for recipients of liver, kidney, heart, lung, pancreas and multi-visceral/small bowel transplants.
– Collaborate with a multi-disciplinary team in our Multi-Organ Transplant Clinic.
– Conduct clinical and translational research.
The applicant will fully participate in the clinical, teaching, and research programs of the Infectious Diseases Division – a vibrant and growing division made up of 23 ID faculty with numerous close associations with other clinical and basic science departments. The interested applicant is encouraged to learn more about UNMC ID at our website and the UNMC ID blog.
Interested candidates should apply online.  Questions may be directed to Jessica Quick at jessica.quick@unmc.edu.