On Tuesday June 4, 2019, the Infectious Diseases Division gathered to celebrate two outstanding fellows, Drs. Raj Karnatak and Richard Hankins. Both are graduating and moving on to amazing next steps.
In 2017, our ID fellowship program was expanded to 2 fellows per year and both Dr. Hankins and Dr. Karnatak welcomed the opportunity to experience the program growth in live action.  Since then, we have filled our fellowship, currently with four fellows (they were joined in 2018 by Drs. Lindsey Rearigh and Randy McCreery).
Our Infectious Diseases faculty were honored to help Drs. Karnatak and Hankins grow and develop their infectious diseases knowledge, leadership and team management skills, and most importantly, to expand their skills in delivering compassionate patient care. We are fortunate that neither is going too far away!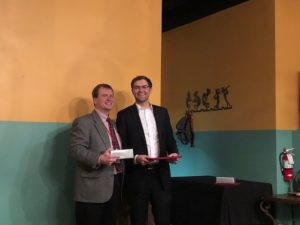 Dr. Hankins is staying on faculty as an Instructor of Medicine, where he will be obtaining his Masters of Clinical & Translational Science, taking on the role of Associate Medical Director of Infection Prevention & Hospital Epidemiology, and continuing teaching as an attending on the General Infectious Diseases service.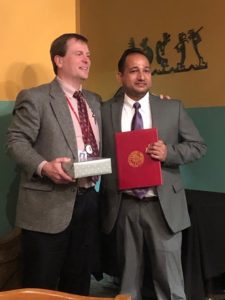 Dr. Karnatak will be transitioning to the UNMC Critical Care department, where he will be completing a third year of fellowship in Critical Care Medicine.
We wish them all the best in their journeys, and hope to keep sharing their news along the way!