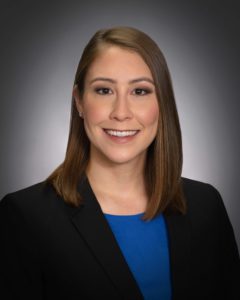 Our department is proud to participate in UNMC College of Medicine's Enhanced Medical Education Track (EMET) program!  EMETs are enrichment opportunities to explore interdisciplinary fields of medicine with in small groups and with close faculty mentorship. Two students from each medical school class are selected to participate in our Comprehensive HIV Medicine EMET, a program that spans their four years in medical school and includes journal clubs, seminars, and clinical experiences culminating in a capstone project focused on an aspect of HIV care.  Today we're excited to feature Bianca Christensen, an M4 completing her EMET experience!
What drew you to the HIV EMET program?
I have been interested in HIV since high school, and when I first learned about the HIV EMET program on my interview day at UNMC, I knew I wanted to apply for the program if accepted to UNMC. I wanted to learn more about the complexity of HIV, including both the social and biological factors involved in HIV medicine. The program also offered early clinical exposure, which introduced me to the role of the medical student on the patient care team.
What have you chosen to do for your capstone project?
My capstone project, a retrospective cohort study, sought to identify the demographic features and virologic outcomes associated with health insurance enrollment among AIDS Drug Assistance (ADAP) participants in Nebraska. I had the amazing opportunity to be mentored by Dr. Susan Swindells and to learn more about the impact of insurance enrollment on health outcomes (i.e. virologic suppression) for Nebraska ADAP recipients. It is well known that health insurance is associated with improved health outcomes, and that is no different for people living with HIV, but the relationship between ADAP-funded health insurance and virologic suppression hasn't been well studied. My goal was to see if there was a difference between Nebraska ADAP participants that were enrolled in ADAP-funded health insurance and Nebraska ADAP participants that did not have health insurance but did receive ADAP-funded medications. Ultimately, I hoped my project would identify patients at risk for poor outcomes who may benefit from targeted outreach and increased support.
How do you think your experience will shape your practice of medicine in the future?
Although I may not interact directly with patients living with HIV in my future practice as a pathologist, my experience in the HIV EMET has provided me with the tools necessary to address the stigma surrounding HIV. I hope to practice in the global arena, specifically in resource-limited regions with underserved populations. When working with these populations, it is essential to understand not only the medical environment but also the social aspects related to disease. My experience in the HIV EMET has provided me with priceless tools to integrate these two components of patient care. I have also valued working with professionals from all threads of the HIV management web: physicians, social workers, pharmacists, nurses, researchers, advanced practice providers, clinical study coordinators, and community organizations. Observing and experiencing the seamless integration of all of these professions has given me the skills to work as an effective team member.
Bianca presented her capstone project at the The American Conference for the Treatment of HIV in Chicago in April 2018, and she will also present her poster at the M4 EMET Capstone Fair on March 14th.  Congratulations, Bianca!