The following was written by Dr. Raj Karnatak, 2nd year ID fellow at UNMC; a reflection of his current Antimicrobial Stewardship/Infection Control rotation:
The UNMC Infectious Diseases fellowship antimicrobial stewardship and infection control rotation provides robust training for fellows in both antimicrobial stewardship and infection control. Training is well designed with education in all the core elements of stewardship and infection control. Fellows attend dedicated lectures from the experts in the field of infection control and antimicrobial stewardship. Throughout the rotation fellows actively participate in hospital acquired infections (HAI) surveillance and infection prevention, and antimicrobial stewardship interventions. In the Infection control training, we learn about the role of healthcare epidemiology, surveillance and prevention of healthcare-associated infections including C. difficile, central-line associated bloodstream infections, multidrug-resistant organisms, ventilator-associated events, and surgical site infections.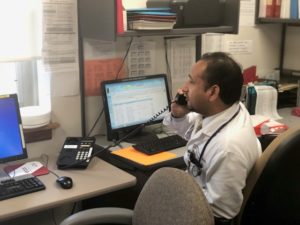 Our antimicrobial stewardship training is concentrated on learning the CDC core elements of antimicrobial stewardship and implementing principles of antimicrobial stewardship in healthcare settings (Inpatient, outpatient, long-term care facility). Fellows actively engage in quality improvement in the infection control and antimicrobial stewardship and also work closely with our Stewardship Pharmacy Coordinator. Learning stewardship core elements present you to principles that can very well be applied to a wide variety of QI efforts. As fellows we are fully integrated into the stewardship team during our rotation, and besides attending key meetings where brainstorming stewardship issues occur and decisions are made, we actively participate in daily telephone audit-and-feedback. This gives us needed practice with communicating with prescribers, troubleshooting common problems and helps us to be better Infectious Disease Doctors.  We are also participating in the IDSA Antimicrobial Stewardship Curriculum pilot. In this formal training, our curriculum Directors Drs. Van Schooneveld and Marcelin meet with us regularly for case-studies, role playing and module reviews, where we discuss approaches to handling difficult situations as #Stewies.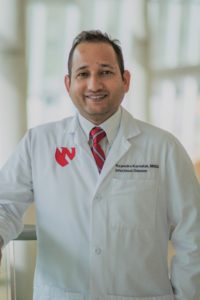 As a part of my stewardship project, I am working on developing an institutional guidance document for antibiotic management of acute rhinosinusitis and pharyngitis in the outpatient setting. My other project is in infection control for the prevention of ventilator-associated events. I also had the opportunity to work with a larger multidisciplinary sepsis group for the development and implementation of institutional sepsis protocol. As a budding Infectious Diseases physician with particular interest in Critical Care Medicine, I know that Antimicrobial Stewardship is essential to any job I take post-fellowship, and I am thrilled to be at an institution that values it so highly.