Content written by Nikki Regan, APRN
After a several year hiatus, the UNMC HIV Update conference was back and better than ever.  The conference planning committee at the UNMC/Nebraska Medicine Specialty Care Clinic started organizing this event over a year ago.  "The interest was definitely there," said Ann Fitzgerald, APRN at the clinic and AIDS Education and Training Program Director for Nebraska. "In the past we have had about 80 attendees. This year's conference brought in over 100 participants, and according to our live polling, 40% of them were first-time attendees."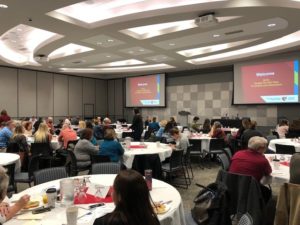 The attendees were from diverse backgrounds, including social workers, nurses, advance practice providers, physicians, pharmacists, dentists and public health workers, with some people travelling over 50-100 miles to attend.
The HIV Update conference was jam-packed with hot topics, focused on a multidisciplinary approach to care.
Dr. Sara Bares kicked the morning off with a review of new and upcoming approaches for the management of HIV. She shared information about the updated treatment guidelines, as well as new FDA approvals and other treatment options coming down the pipeline, such as long-acting injectable ARV therapy.
Dr. Mark Malliard shared the joy and new-found simplicity of treating Hepatitis C–"You will cure their Hepatitis C, and your patients will love you."
Dr. Jasmine Marcelin gave a moving presentation on the history and persistence of disparities in healthcare for people living with HIV, especially people of color. She urged the audience to move the focus from equality to equity, and ultimately—social justice.
Josh Havens, PharmD, discussed Pre-Exposure Prophylaxis (PrEP) for HIV negative patients and encouraged providers who aren't yet providing PrEP to consider doing so. Unfortunately, there are few providers in the area who are prescribing PrEP at this time.
Dr. Jean Amoura deciphered terminology and care considerations related to transgender care.
Dr. Susan Swindells, Kim Scarsi, PharmD, and Precious Davis, MSN, opened up discussion of several case-based scenarios to demonstrate how the inter-professional team can work together to meet the needs of complex patients.
Dr. Mario Sanchez and Dr. Alex Dworak, from One World Community Health Center, teamed up to highlight the importance of addressing mental health and substance abuse disorders. Their advice for uncovering these comorbidities: "Ask. Then be prepared for the answer."
Daniel Cobos, RN, MPH and Nikki Regan, APRN, wrapped up the day with an entertaining debate regarding condoms. Cobos argued that in the era of U=U and PrEP, condoms are outdated. Regan noted the increase prevalence of other STIs, as well as the underlying complexity of U=U, and suggested we "keep condoms in the conversation".
Community partners, including Douglas County Health Department and Charles Drew Health Center, were also on hand to promote their services and interact with providers.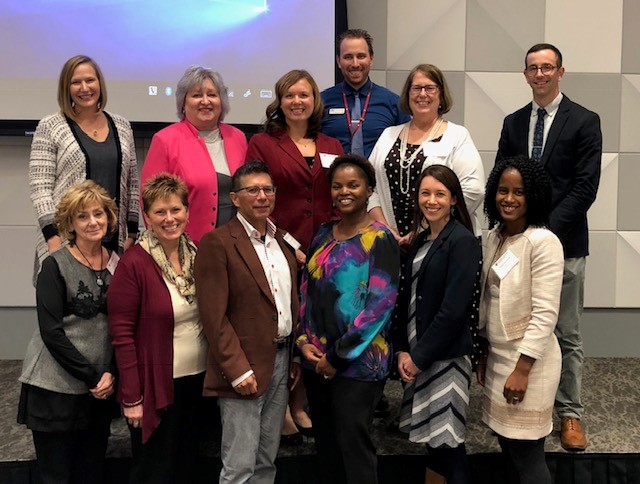 The Planning committee would like to thank all of their sponsors and partners for the event, including the Midwest AIDS Training & Education Center, and the Nebraska Ryan White Part B program.  The committee would also like to thank Deanna Hansen, Deb Justesen and Sara Weber for their hard work in keeping the conference running smoothly throughout the day. You can find more quotes, photos, and audience reactions to the day on Twitter: #UNMCHIV2018, and be sure to follow @UNMC_ID to be the first to hear about future conferences!