We are thrilled to have another member of our UNMC ID team. Read on to learn a little more about Daniel Cramer, who is joining our new Orthopedic Infectious Diseases team.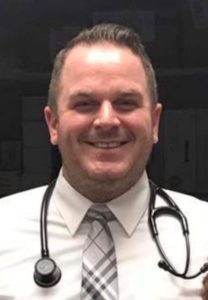 Why did you choose to stay at UNMC?
UNMC is home for me!  I completed my undergraduate degree here, as well as my graduate degree.  I previously was a staff nurse at Nebraska Medicine for about 5 years and the connections and friendships I have formed at UNMC and Nebraska Medicine are what keeps me here.  Beyond the connections and friendships, the commitment to extraordinary patient care and cutting-edge medicine is also a huge draw for me as well.
What makes you excited about working in ID?
I have always had a passion for infectious disease medicine from the start of my educational journey!  My first undergraduate degree was to be microbiology at Nebraska Wesleyan before I decided to pursue a career as a nurse practitioner.  I knew my dream job was to be in infectious disease when I did a two-month rotation at the specialty care clinic and I told myself after that rotation that I would steer my career towards infectious disease!  I love that having a career in infectious disease allows me to participate in cutting edge research, as well as providing excellent patient centered care.
Tell us something about yourself that is unrelated to medicine?
Something about myself that is unrelated to medicine is that I absolutely love supporting the arts in Omaha!  I am a member of the Young Arts Patrons, as well as a                                                     new season ticket holder to the Omaha symphony!
Ef LtTUXm