Orthopedic Infectious Diseases
University of Nebraska Medical Center – Omaha, NE
The University of Nebraska Medical Center (UNMC) is excited to announce the recruitment of a faculty position in Orthopedic-ID in the Division of Infectious Diseases, Department of Internal Medicine. Successful candidates will hold an academic appointment at the assistant or associate professor level and will be employed by UNMC and Nebraska Medicine. Candidates should be Board Eligible/Certified in Infectious Diseases.
A generous compensation package with salary commensurate with experience will be offered. Candidates should have an enthusiasm for patient care, teaching, and clinical research. Generous protected time and support are available in order to conduct collaborative clinical research and achieve the goals of the program.
Opportunity Highlights:
– Join established ID Physicians, two Advanced Practice Providers, an ID-trained Pharmacist, and dedicated pharmacy technician in a newly established Orthopedic ID Service Line and support the Outpatient Antimicrobial Therapy (OPAT) Program
– Partner with an internationally-recognized Antimicrobial Stewardship Team to develop and implement OPAT at Nebraska Medicine
– Participate in teaching of medical students, residents, and ID fellows on the Ortho ID consult service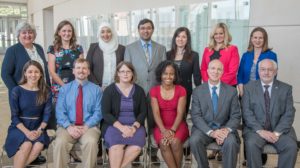 The successful applicant will also participate in the clinical, teaching, and research programs of the Infectious Diseases Division – a vibrant and growing division made up of 18 ID faculty.
Translational research between the Ortho ID program and the Center for Staphylococcal Research is encouraged.
Learn more about UNMC ID on our website and the UNMC ID blog. You can also follow our Division on Twitter @UNMC_ID.
Interested candidates should submit a letter of interest and CV to:
Mark Rupp, MD
Chief, Division of Infectious Diseases
University of Nebraska Medical Center
985400 Nebraska Medical Center
Omaha, NE 68198-9400
Email: merupp@unmc.edu