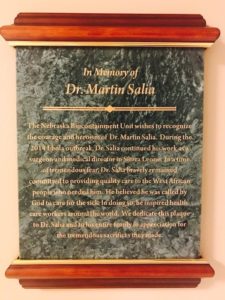 Dr. Martin Salia was a healthcare hero in his native Sierra Leone. He strove to provide excellent, quality healthcare to patients in Freetown, the capital city of Sierra Leone, as the Ebola epidemic continued to spread. It was during his selfless determination to care for his patients, that Salia contracted the Ebola virus. He was evacuated and arrived at the Nebraska Biocontaminent Unit, but despite aggressive efforts, he died less than 2 days after his arrival.
On July 12th, Dr. Salia's wife, children, friends and medical staff gathered to honor him. A plaque now hangs in the Nebraska Biocontainment Unit in honor of Dr. Salia. His wife was also present with a brick engraved with " In honor of Dr. Martin Salia, courage and heroism" that will placed in the pathway of the healing gardens at the hospital.
To see more about Dr. Salia and the celebration of his life and sacrifice, please see:
http://www.omaha.com/livewellnebraska/doctor-who-died-in-ebola-outbreak-honored-for-courage-and/article_2fd0b072-6764-11e7-9279-3b51085ec9ab.html
http://www.3newsnow.com/news/local-news/unmc-honors-doctor-who-died-from-ebola-virus
For more about the Nebraska Biocontainment Unit, click here.