Recently, Nikki Regan, APRN at the Nebraska Medicine Specialty Care Clinic, was a guest speaker for the Healthy Lifestyles curriculum at her alma mater, Ridge View Middle School (formerly Schaller-Crestland), in Early, IA.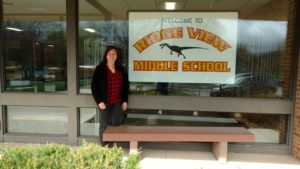 Regan led a discussion about HIV and stigma for a group of approximately sixty (very curious) 8th graders. They talked about HIV basics, like how it is transmitted and, more importantly, how to prevent transmission, as well as the stigma associated with the disease. The sub-title of the presentation was Caring for Yourself and Caring for Others. "My goal was for these adolescents to know the facts. With the facts, they can protect themselves, and also treat those already impacted by HIV with respect and compassion, because they are no longer fearful", states Regan.
The students had plenty of great questions. On a pre-survey of the class, 60% of them had reported they thought they would become HIV positive at some point in their life. "They were afraid they would acquire HIV from casual contact. They didn't quite understand that HIV doesn't just 'happen', so we talked a lot about how it has to be transmitted from a HIV-positive person, and ways that can occur", Regan said.
Regan added, "I am very passionate about taking care of our patients at the HIV clinic, but I am just as passionate about educating the next generation about HIV, so they don't become one of my patients. HIV is 100% preventable, and hopefully after today, these kids are prepared to protect themselves by avoiding high-risk behaviors."
-Content from Nikki Regan, APRN