Work hard, play hard.
Medicine is a hard job AND a team sport. We must take time out to celebrate our colleagues work and accomplishments!
This week is Medical Laboratory Professionals Week, which is held the last full week of April each year.  Events are held to celebrate the critical work that clinical laboratory scientists perform on a daily basis.  This week our Microbiology teams celebrated with a night of bowling and had two teams, the Honey Bowlers and the Gippidy doo doos.
Thank you for all of your efforts to provide amazing patient care!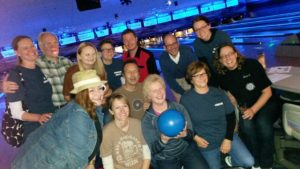 – Post content courtesy of Dr. Paul Fey.