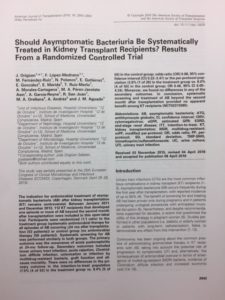 Asymptomatic bacteriuria (presence of bacteria in the urine with no clinical symptoms) is a common finding, especially in the elderly and people with diabetes, and current guidelines recommend against treating patients who harbor bacteria in the urine.
There are a few exceptions, for example treating pregnant women, in order to prevent complications.
This scenario however, has not been extensively studied or addressed in patients who are immunosuppressed or who have a transplanted organ, especially those who underwent kidney transplantation. It would be prudent to believe a priori, that if bacteria is present in the urine of a patient who has a kidney transplant, it may lead to complications such as infection in the transplanted kidney, sepsis or even loss of the organ.
To address this question, researchers from Hospital 12 de Octubre in Spain studied 112 kidney transplant patients who developed one or more episodes of asymptomatic bacteriuria after the second month post-kidney transplantation. 53 patients were selected to undergo treatment of every episode of bacteriuria (treatment group)  and 59 patients were followed without treatment (control group). Every patient had several urine cultures performed to document clearance or persistence of bacteria, and episodes of pyelonephritis (kidney infection) or graft rejection were documented.
The investigators found that both groups had an average of 4 episodes of asymptomatic bacteriuria per patient. Treating bacteriuria did not prevent subsequent bacteriuria in the treatment group. Interestingly, while all episodes of bacteriuria should have been followed by antibiotic prescription in the treatment group, this only occurred in 64% of the episodes. Moreover, 5% of the bacteriuria episodes in the control group were also treated. Another important finding was that culturing one kind of bacteria in the urine of a given patient, did not predict subsequent development of urinary infections with the same bacteria.
The authors were able to address their two most relevant questions:  there was no difference between groups for development of pyelonephritis or organ rejection.
Urine cultures are expensive, antibiotic prescriptions can also amount for a large sum of money and may predispose patients to drug resistant organisms or development of Clostridium difficile. We should also note how difficult it is to strictly adhere to study protocols, as exemplified by the failure to prescribe antibiotics for every episode in the treatment group.
This was not a large study but it sought to address a very relevant question, and the authors should be commended for their efforts in carrying it out.  The findings of this paper underscore a significant learning point:  antibiotics are not always the answer.
Read the article here.
– Perspective from Dr. Sandkovsky based on our ID Journal Club Discussion. This represents personal opinions and does not necessarily represent the views of UNMC or the entire Infectious Diseases Division as a whole.