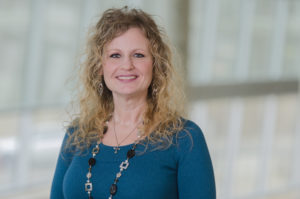 Please join us in welcoming Jolene Tijerina to the Division of Infectious Diseases. Jolene will serve as a Nurse Practitioner supporting the Oncology Infectious Diseases section. Previously, Jolene served as a Clinical Research Coordinator with the Division of Oncology and Hematology.
Tell us about your background:
I worked here doing non-therapeutic research prior to going back and getting my BSN at Creighton through their accelerated program.  Worked at Children's for 2 years on their IMC (step down from PICU) floor with kiddos with lung transplants, vent requirements, ICP etc. Then came back here in 2011 where I was a clinical research nurse coordinator in oncology working with lung, brain, melanoma, and sarcoma patients while on clinical trials.
Why UNMC?
UNMC has such a great reputation as being a stellar institute and I love that it is a learning/teaching hospital that actually puts a lot of emphasis on that aspect.  I have worked here on and off for over 10 years with a short break at Children's after I graduated with my BSN but always wanted to come back here.
What about ID makes you excited?
ID – what's there not to get excited about?!?!  It seems to be changing daily.  I was in oncology research prior to starting here in oncology ID so it is somewhat of a learning curve as I mainly worked in solid tumor (lung, melanoma, brain, sarcoma) prior to being a NP.  I love learning new things and if I could be a professional student I probably would but I have bills to pay.  So ID gives me that and I am always learning something new every day.
Tell us something interesting about yourself UNRELATED to medicine:
I grew up in a military family.  My dad served in the Navy on submarines for 20 years so have lived on both coasts and I am somewhat of an adrenalin junky.  Love to zipline and skydive and hope to go parasailing this summer!
See more about the UNMC ID Division at: https://www.unmc.edu/intmed/divisions/id/index.html