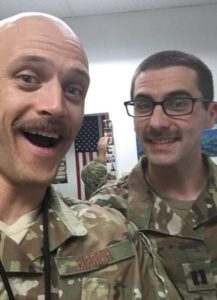 The third Wednesday of every month offers UNMC Department of Family Medicine faculty the opportunity to participate in Faculty Development sessions, covering a wide range of topics. Faculty Development is held in the Family Medicine offices with an option to join via live streaming.
Military faculty members, Dr. Carl Bryce and Dr. Gabe Harris were able to view the most recent Faculty Development session on October 16 while deployed overseas in Afghanistan. Faculty members Dr. Jason Meredith and Dr. Kevin Sisk presented a "Introduction to Educational Program Development" for this week's session.
With such a large faculty spread across several Nebraska Medicine clinic locations and faculty serving overseas, the Department of Family Medicine is grateful for the technology offered by UNMC to help include all faculty in these important sessions.