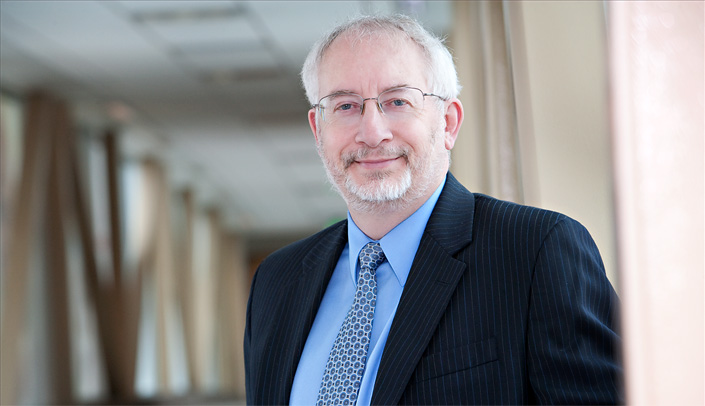 I write this having just completed 14 days of seeing inpatients at Nebraska Medicine as the attending physician on the general infectious diseases consult service, a care team that includes students, residents, a fellow, and infectious disease specialized pharmacists.
The service provides consultative care to patients located across most of Nebraska's Medicine's inpatient units on the 42nd Street campus. This activity provides me with the opportunity to return to clinical medicine and clinical teaching, something that I still enjoy immensely. It also pretty much assures that I get in my 10,000 steps each day.
But most importantly, it provides me with the opportunity to witness the exceptional dedication that the faculty, staff, resident, fellows and students who make up UNMC and our health system partners (Nebraska Medicine, Children's Hospital & Medical Center, the VA and Madonna) demonstrate each day in our missions of patient care, education, research and service.
This year, as was the case this time last year, finds us in the middle of a COVID-19 surge. But this year is different. The health system, and those providing care, are more stressed, as they deal with chronic staffing shortages due to the departure of health care professionals from the workforce over the past year. This has been made acutely worse by a significant portion of current care providers themselves being out with COVID or needing to be home to care for infected family members due to the high infectivity rate of the omicron variant.
This staffing shortage has required limiting available services, which negatively impacts the care of patients with medical issues other than COVID, frustrating both patients and caregivers. Everyone — health care providers, patients and families — are tired and burned out from this pandemic that is fueled in part by an ongoing and unending barrage of medical disinformation. Despite all the challenges, the collegiality, teamwork and respect for one another that I saw in action repeatedly over the past two weeks was inspiring.
I am so proud to be part of this organization. Although everyone deserves recognition for their efforts, at this time I want to call out a group of individuals who too often do not receive the thanks and recognition that they deserve — our residents and fellows. This group of young physicians have been on the front lines of the pandemic over the past two years, providing much of the patient care 24/7, all while learning and developing their own skills and playing a critical role in the education of our medical students. On behalf of the faculty of the College of Medicine and its leadership, thank you to each of our current and former residents and fellows for all that you have done and continue to do for UNMC.