Content written by Specialty Care Center Nurse Practitioner, Nikki Regan, APRN
The Nebraska Medicine Specialty Care Center provides primary and specialized care to over 1100 people with HIV (PWH) in the Nebraska and southwest Iowa region.

At the onset of the COVID-19 pandemic in March 2020, PWH expressed a variety of emotions and concerns. Most were afraid that their HIV status would increase risk of contracting COVID-19, or suffering from severe illness or death (based on early and limited data, it appears that PWH who are on effective therapy have the same risk for COVID-19 infection as people who do not have HIV). Our phones were overrun by patients cancelling appointments, strictly quarantining and afraid to leave their homes for any reason. Notably, many of our patients 55 years and older stepped forward, proud to be a symbol of survivorship, after experiencing the early HIV epidemic of the 1980s firsthand.

It is no surprise then that the advent and growing availability of COVID-19 vaccinations in 2021 has been met with a mix of emotions for PWH. Patients in general have expressed concern about the speed with which the Moderna and Pfizer vaccines were developed. The concept of mRNA delivery was previously unheard of to the general public. More specifically, our patients want to know if it is safe for them to receive the vaccine since they have HIV. Vaccine hesitancy may be higher among people of color, rooted in generations of structural racism resulting in medical mistreatment without proper informed consent. (Approximately one-third of patients at the Specialty Care Center identify as non-White). Finally, even patients who were eager to receive the COVID-19 vaccine were disappointed to learn that they will not be vaccinated in our clinic, since vaccinations are being managed by state and local health departments instead of hospitals and clinics.

The team at the Specialty Care Center has quickly mobilized a plan to promote acceptance of COVID-19 vaccinations for PWH in our community. Originating with the creation of a COVID-19 Task Force in January 2021, clinic champions have led several projects including the development of a COVID-19 FAQ handout for patients in both English and Spanish, a bulletin board in the patient waiting area displaying pictures and statements from staff as to why they chose to receive the vaccine, and a plan to actively discuss our recommendation to receive the COVID-19 vaccine with every patient in our care.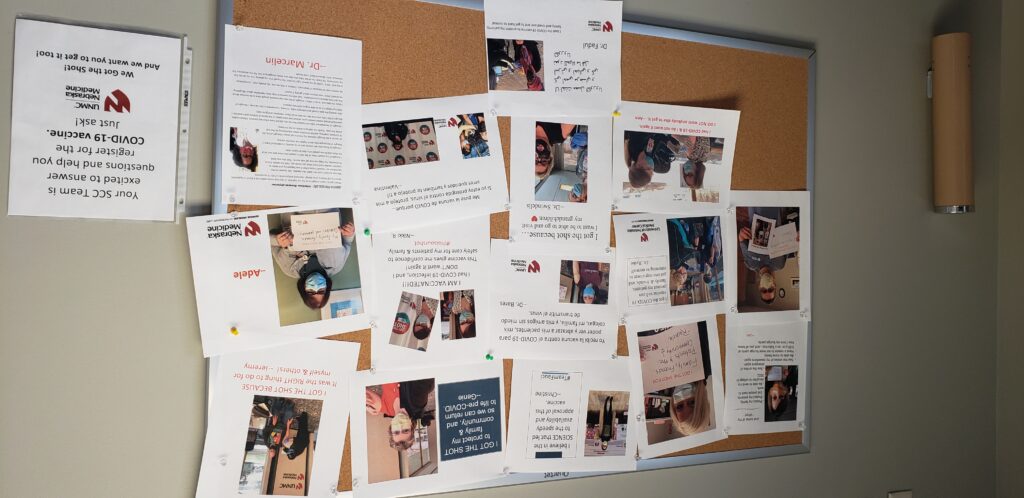 With each clinic interaction, patients are offered assistance in pre-registering for the COVID-19 vaccine online, via www.vaccinate.ne.gov if they live in Nebraska. Patients from Southwest Iowa are also encouraged to contact their state and local health departments for direction. Additionally, clinic champions are contacting patients at home via telephone and One Chart Patient portal, and completing pre-registrations in that manner. Those patients 65 and older have been assisted with scheduling their vaccine appointment in their designated county of residence. Additionally, CARES Act funding has been earmarked to assist with transporting qualified patients to and from vaccine appointments.

This Nebraska Medicine FAQ site has more information about the COVID-19 vaccines.
Bottom line: people with HIV CAN and SHOULD receive the COVID-19 vaccine, in consultation with their clinician. To learn more, or to pre-register in the state of Nebraska, visit www.vaccinate.ne.gov.