As we start a new year, we thought it would be appropriate to share a story that reminds me of what is fundamental to a life in medicine: helping those we have the power to help.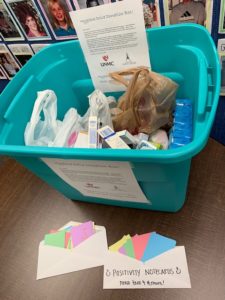 The Nebraska Medicine Specialty Care Center houses our HIV clinic as well as a hygiene pantry that stocks supplies to help patients who don't have access to these products, supplementing the medical care patients receive and helping break down some of the barriers to good health.  In October, Carly McCulloch, an education graduate student at the College of Saint Mary, organized a hygiene drive to benefit our pantry.
"Access to hygiene items brings a sense of dignity to tough situations," Mary wrote in her letter asking folks to contribute to her drive.  In addition to collecting a huge number of personal hygiene products, Mary included notes of positivity from herself and donors to support those receiving the supplies.
Let's keep Carly's example in mind and remember that there are always ways to help those who need it, and the most fundamental supplies can make a huge impact.  We are so grateful to Carly for the time and effort she spent collecting and organizing donations of our hygiene pantry.