Earlier this year we featured a study by UNMC ID Drs. Sara Bares and Susan Swindells: "Midwest pharmacists' familiarity, experience, and willingness to provide pre-exposure prophylaxis (PrEP) for HIV."  We're excited to share an update on their work building inter-professional relationships to increase PrEP education and use in Nebraska that was recently published in Open Forum Infectious Diseases: "Acceptability and feasibility of a pharmacist-led HIV pre-exposure prophylaxis (PrEP) program in the Midwestern United States."
We spoke with first author Dr. Joshua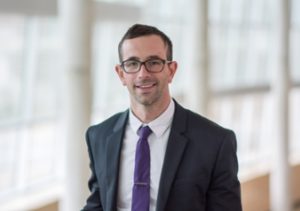 Havens, UNMC ID HIV Program Clinical Pharmacist, about this recent publication.
What is the current work about?
The uptake of HIV pre-exposure prophylaxis (PrEP) is generally highest within large urban cities on the Western and Eastern coasts of the US.  Parts of the Midwest and the South are underserved in many ways but especially for PrEP access.  A provider paradox exists in determining the optimal setting where PrEP provision should take place (i.e. HIV provider, primary care clinic, STI clinic, etc).  It would seem that the primary care setting may be the first access point for PrEP provision of high-risk individuals, but many primary care providers are uncomfortable with providing PrEP for various reasons including increased daily patient loads, discomfort with HIV antiretrovirals, stigma, etc.  Further, patients have reported that they do not feel comfortable with discussing their sexual activity with their primary care provider.
Our study investigated the feasibility of pharmacists as collaborative HIV pre-exposure prophylaxis (PrEP) providers in several different settings (HIV clinic, primary care clinic, and a community pharmacy).  We aimed to capture the number of patients that chose to participate in the study, their retention in care over a year, patient satisfaction with the program, and the pharmacist's acceptability with the program.
What were some of your key findings?
Our study enrolled 60 patients over 6 months most of which were Caucasian, gay or bisexual men with some sort of insurance coverage. Sexually transmitted infections (STI) were present in 23% of the population at baseline. The majority of the patients chose to participate in the study with nearly all enrolling at either the HIV clinic or community pharmacy settings (only 5 patients participated at a primary care site). Over the time course of the study, retention in PrEP care at all study sites fell. Overall, there was a high rate of patient satisfaction with the pharmacist-led program. Additionally, the pharmacist providers found the program to be acceptable.
The community pharmacy site for the study offered same day appointments in a private setting. All of the point of care screening and testing (HIV, creatinine, syphilis) was done by the pharmacist provider and the STI specimen collections (urine, pharyngeal, rectal) were self-collected by the patients after education was provided. All of these were free of charge during the study period and couriered delivery and processing of STI specimens were completed at a central laboratory with any incident STI's communicated back to the study team to arrange for subsequent treatment. All of these processes pose as logistical challenges if the community pharmacy model were to be duplicated. Specifically, there is no point of care tesing for either Hepatitis B serology or rapid plasma regain (RPR). As a result, the initiation of PrEP in the community pharmacy would be challenging and the may be more appropriate for follow-up PrEP care. Further, the logistical challenges of STI specimen collection, processing, and treatment would present more challenges at the community pharmacy setting. Thus, these issues would need to be abated prior to implementing a pharmacist-led PrEP program in the community pharmacy setting.
What are some future directions for this work?
Larger scale research studies exploring ways to alleviate the logistical challenges noted in our study, PrEP persistence, and sustainability within the pharmacist-led PrEP model would help to strengthen its utility.
You can read more about this work here.