In 2018, the Infectious Diseases Society of America (IDSA) began recognizing "Antimicrobial Stewardship Centers of Excellence" at hospitals that meet or exceed best practice standards.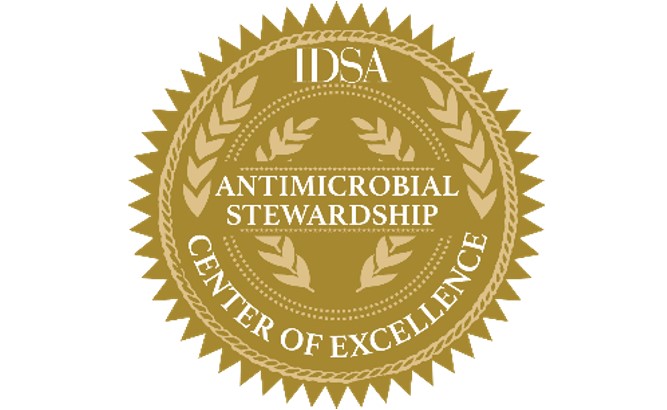 We are pleased to announce that Nebraska Medicine has recently been designated as an Antimicrobial Stewardship Center of Excellence effective October 2019. 
As we celebrate #AntibioticAwarenessWeek for 2019, we are reminded of the importance of antimicrobial stewardship as antimicrobial resistance is one of the most urgent global health threats. Everyone has a role to play in improving antibiotic use to help fight antibiotic resistance, and at University of Nebraska Medicine/Nebraska Medicine, we take that role seriously. 
The antimicrobial stewardship program (ASP) at Nebraska Medicine has been considered a leader in the field since becoming active and launching our website to guide clinicians on best practices in 2004. In fact, our ASP is one of thirteen hospitals highlighted by the Centers for Disease Control & Prevention (CDC) as examples of successful hospital antimicrobial stewardship programs. This has been increasingly demonstrated through institutional clinical care excellence, regional promotion of stewardship through programmatic support and training, research scholarship, and universal outreach through website and digital media resources.
The goal of the program is to optimize antimicrobial use, limit the spread of antibiotic resistance, and reduce adverse events of antibiotics such as C. difficile. Our ASP, now consisting of three physician directors and two pharmacist coordinators, is a multi-disciplinary collaboration between the UNMC Division of Infectious Diseases, Nebraska Medicine Departments of Pharmaceutical and Nutrition Care, and Infection Control and Hospital Epidemiology. The Nebraska Medicine ASP shares expertise with the Nebraska biocontainment unit the Davis Center for Global Health Security.
The program promotes standardization in patient care and high-reliability processes for clinical practice while taking into account patient-specific factors in the treatment of infection. Leveraging this experience and national recognition, the Nebraska Medicine ASP has been able to acquire multiple external grants in the last several years. The program also works with the Nebraska Department of Health and Human Services in securing funding annually from the CDC contracted with Nebraska Medicine for antimicrobial stewardship outreach in the state, through the Nebraska Antimicrobial Assessment and Promotion Program (ASAP).
We are grateful to the leadership of Nebraska Medicine, especially Dr. James Linder, CEO of Nebraska Medicine, Dr. Julie Fedderson, Chief Patient Safety and Compliance Officer, and Pharmacy leadership Lori Murante and Colleen Malashock for their support of the Nebraska Medicine ASP which was instrumental in attaining this Center of Excellence designation. We would also like to thank the members of our Antimicrobial Stewardship Program team (Salman Ashraf MD, Bryan Alexander PharmD, Scott Bergman PharmD, Phil Chung PharmD, Richard Hankins MD, Jasmine Marcelin MD, Erica Stohs MD, Trevor Van Schooneveld MD, Andrew Watkins PharmD), and our ID Division Chief Dr. Mark Rupp (who has led and been involved with the Nebraska Medicine ASP from the beginning), for all of their hard work in building our program at Nebraska Medicine.