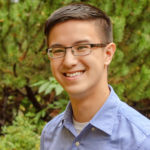 This year, the UNMC HIV Update for Care Providers and Educators on October 10, 2019 brought approximately 100 attendees to Omaha again to learn about new drugs, management approaches, and patient experiences with HIV. The CME conference was funded by the Nebraska AIDS Education & Training Center (AETC), [a local partner of the Midwest AETC], and the Nebraska Department of Health & Human Services. One of our medical students, Brandon Lew, attended and shared his thoughts about the conference here. 
*********
Every year, health professionals involved in the care for patients with HIV get together at the UNMC HIV Care Update Symposium. With the successes of antiretroviral therapy, HIV treatment has been one of the major healthcare successes of recent history. However, there is still progress to be made and the treatment for patients with HIV is continually improving.
This year the symposium took place on October 10, and I had the pleasure of attending the conference. It was a full day of talks organized by the UNMC ID healthcare professionals who staff the HIV Specialty Care Center. The talks began with UNMC physician Dr. Sara Bares, who set the stage in what's new in HIV care. She established how HIV still impacts hundreds of thousands of lives, and discussed the hopes for making HIV a disease of the past with initiatives such as the Ending the HIV Epidemic.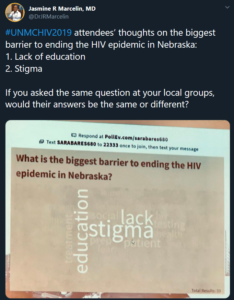 She then turned to the audience and asked what they thought the biggest barrier to ending the HIV epidemic in Nebraska was. Free responses were submitted through our phones and immediately a word cloud was generated using the audience's answers. This was not only a super cool way of making the presentations interactive and engaging, but also highly impactful seeing professional consensus that 1) lack of education and 2) stigma were major barriers to HIV care.
The day went on with keynote speaker Dr. Timothy Wilkin (from Cornell) sharing about advances in antiretroviral therapies and Dr. Josh Havens speaking about the current state of Pre-exposure prophylaxis (PrEP), that is, medication for HIV prevention. In going to scientific conferences, these were the talks I was expecting and excited to see, learning about the state-of-the-art therapies and scientific studies. However, I was also pleasantly surprised by the number talks that did not revolve around the science and medical jargon.
Dr. Nada Fadul, MD, Precious Davis, MSN, RN, and Tommy Young-Dennis presented on connecting patients in a talk entitled "Meeting Them Where They Are: Strategies to Engage Black MSM in HIV Care and Prevention Services." Their passion for not just treating, but truly caring for patients and their lives was striking. They advised to engage the patient and learn about their struggles, "keep it real," and be mindful your own of verbal and nonverbal communication. Interestingly there were also talks which did not centrally focus on HIV, including presentations on current trends in illegal drug use in Omaha, and how to have a dialogue with refugee populations living around Omaha. These patient focused discussions and locally driven information were especially impactful because they were not jargon filled lectures, but rather topical information on subjects that are important for patient care.
One of the recurring and most impactful discussions for me was around "U=U". I had learned of the phrase during a preceptorship at the Specialty Care Center, and as a medical student, I immediately identified it as a great learning tool. In medical school, there is so much to memorize, and acronyms become ubiquitous for learning. So when I learned that Undetectable = Untransmittable, or U=U, I identified it as an important educational tool not only for myself, but also in patient education. I knew that this phrase was effectively helping address one of the major barriers to HIV care, the lack of education.
However, what I did not realize is how U=U also addresses that second audience-identified barrier to HIV care, the stigma surrounding HIV. This discussion was the final topic of the symposium, and was the most impactful part of the day for me. Three patients with HIV spoke about their stories with HIV and their perspectives on HIV care, and the message of U=U. The stigma they had experienced throughout their lives due to HIV was heart breaking, describing denigration and isolation due to their diagnosis. They then described how the message of U=U was freeing from that stigma. Undetectable = Untransmittable; that is, NO risk of transmitting HIV through sexual contact. And for the patients, eliminating that risk of transmission can in turn eliminate the unending concern that one might transmit HIV to someone they love, or the isolation that some patients may feel in being labeled as HIV positive. Put in much better words by one of the panelists: "I am liberated from the cloud over me."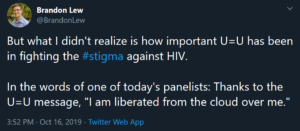 Ultimately the symposium opened my eyes to what it means to care for patients with HIV. I learned about the cutting-edge advances in antiretroviral therapies and the current state of PrEP for HIV prevention. But importantly, I also learned that care for patients with HIV is much more than a viral load and CD4 count. It's also about meeting them where they're at, overcoming barriers to care, and addressing the stigma around HIV.
uc mP