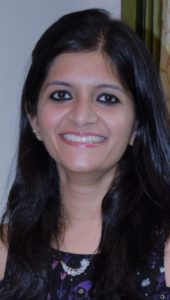 Dr. Shipra Goel joined us for the summer as an observer in the Infectious Disease Department.  We're excited to include her contributions to our blog during the month she was with us!
My journey to an exciting observership at UNMC was enabled by my passion for infectious diseases (ID) which was virulent enough to infect Dr. Marcelin from 8000 miles away. Thanks to social media, which has made the world much more connected and interactions with mentors much easier, I could follow and reach out to people who inspired me. Social media in its various forms provides a means to young physicians to voice their opinions, showcase their mettle, and follow and learn from leading figures in their fields.
On one of these social media websites, when I was looking for like-minded people and luminaries in ID, a field I am extremely passionate about, I happened upon the UNMC ID Twitter account. Through this, I came across one of the most incredible and enthusiastic group of doctors working in ID.
I devoured every post and discussed and debated them with my peers. I followed Dr. Marcelin religiously while working in a land far far away. Over time, I longed for more direct learning, and I worked up the courage to reach out to her. I wrote to her that I aspire to pursue an ID fellowship in the United States and do substantial research in the field. She was enthusiastic and provided invaluable guidance, telling me about the observership opportunity, and helping me with the application process.  I could not have had this experience without her.
I have always been someone who gets really excited about opportunities to learn, and I am so glad to have the opportunity to come to UNMC for an observership.  The ID department at UNMC has gained recognition worldwide, and I have often been part of discussions of scientific papers where UNMC-ID research was referenced or referred to back in India as well.
My passion for ID has been chiefly driven by my ardent love for peace and harmony in the world and the aspiration to alleviate preventable suffering to work towards these lofty goals. I believe a better, healthier world can only be created if we recognise the multiple facets of microbes and understand that humans need not fight them but instead need to find better ways to live in harmony with them. I see this as a way to combat antibiotic resistance and prevent major outbreaks that the world faces every so often.
This is one of my favorite quotes about microbes from one of my favorite books – "Missing Microbes" by Martin Blaser:
"Microbes are invisible to our naked eye, with a few exceptions that reinforce the rule. Millions can fit into the eye of a needle. But if you were to gather them all up, not only would they outnumber all the mice, whales, humans, birds, insects, worms, and trees combined- indeed all of the visible life- forms we are familiar with on Earth- they would outweigh them as well. Think about that for a moment. Invisible microbes comprise the sheer bulk of the Earth's biomass, more than the mammals and reptiles, all the fish in the sea, the forests. "
Here's a brief introduction to my credentials:
I received my MBBS (equivalent to an MD in the US) from Lady Hardinge Medical College, New Delhi, one of the oldest and most prestigious medical schools in India. During my studies I discovered and developed my aptitude for ID and research by working on projects under the aegis of Indian Council of Medical Research (ICMR) . Under the tutelage of professors from my medical school I received my initial training in research methodology and had an enriching experience.
After medical school, I pursued Post Graduation training in Clinical Microbiology and ID from Maulana Azad Medical College, New Delhi, where Dr. Anita Chakravarti, a luminary in the field of virology, served as my guide and mentor over 3 years. This cemented my interest in research on infections, their diagnosis, and their management. I have experience in hepatic viruses, arboviruses, encephalitis causing viruses, and transplant virology, and I have published several research papers in these fields (you can find some of my publications here). I am keen to take on further challenges in ID, and I am really excited for my time at UNMC and looking forward to this wonderful month of opportunity and growth.