Over the course of their training, fellows in the UNMC's Division of Infectious Diseases will receive dedicated clinical and didactic training in the area of HIV alongside faculty with expertise in the HIV clinical care and research.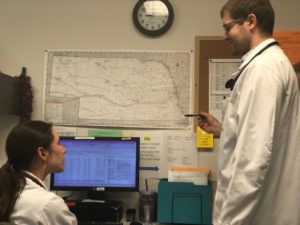 Clinical Training: Fellows will have their continuity clinic at UNMC's HIV clinic one half day each week. The UNMC HIV Program is a regional leader in HIV care and fellows will have the opportunity to care for patients of diverse backgrounds alongside a multidisciplinary team.
While most of the clinical training occurs in the outpatient setting, there are often a few patients with HIV in the hospital at any given time and fellows will have the opportunity to learn the inpatient aspects of HIV care when they rotate on the general ID consult service.
Curriculum: Additionally, fellows have the opportunity to participate in a biweekly HIV Roundtable series, the didactic component of the HIV curriculum. The HIV Roundtable series is a 2-year curriculum in which both core HIV topics are taught by the faculty along with the fellow and more advanced topics are covered by the faculty and guest lecturers with content expertise. The Roundtable lectures are case-based and employ active learning methods in order to optimize fellow engagement and retention.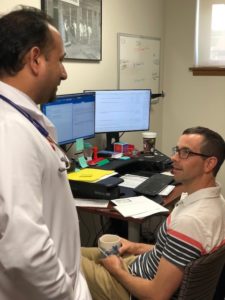 Research: Fellows interested in a career in HIV clinical or translational research may be given the opportunity to spend more time in the outpatient clinic, spearhead HIV-related educational programs, and participate in HIV-related research.
Leadership: Our fellows have the opportunity to work with clinic Director Dr. Susan Swindells, who has national and international recognition for her expertise in treatment of persons living with HIV and those co-infected with tuberculosis. Dr. Sara Bares is the HIV curriculum director for the fellowship and Nebraska AIDS Education & Training Center Director and has received recognition for her interdisciplinary educational achievements and HIV research.
Learn more about the UNMC Infectious Disease fellowship here. We look forward to reviewing your fellowship application!
Content provided courtesy Dr. Sara Bares