Today at our UNMC Infectious Disease Research Conference, Dr. Kelly Cawcutt's presentation included details on Plazomicin, a new antibiotic recently granted FDA Breakthrough Therapy Designation,  aimed at treating multi-drug resistant organisms (MDROs).
Antibiotic resistance continues to be a clinical problem. The CDC Antibiotic Threat Report has estimated 2 million infections with antibiotic resistant organisms and 23,000 deaths, with antibiotic resistant organisms estimated to cost up to 20 billion healthcare dollars.
Hospital Acquired Pneumonia (HAP) is one of the most common diagnoses in the intensive care unit (ICU), and many are ventilator associated pneumonia (VAP). Given the significant antibiotic exposure experienced in ICUs, it is no surprise that the number of MDROs causing HAP/VAP has increased.
Despite known concern for increased incidence/prevalence of MDROs, there are relatively few new or re-purposed antibiotics in development. Further complicating the situation, often when new drugs are developed, they are usually restricted, to attempt to conserve them for totally drug resistant organisms in severely ill patients. Nevertheless, new drugs still need to be developed.
Plazomicin is a next generation aminoglycoside/neoglycoside targeting MDROs with similar spectrum of activity to gentamicin and amikacin. It is bactericidal, with concentration-dependent killing and is administered intravenously once daily.  Aminoglycosides have been known to cause some significant adverse drug effects including nephrotoxicity and ototoxicity. Plazomicin is unique in that compared with the other aminoglycosides, these adverse effects are reduced, and there are low risks of drug-drug interactions.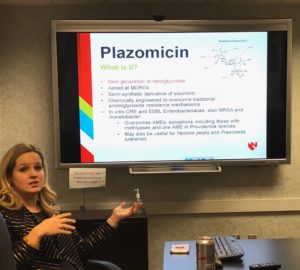 Dr. Cawcutt shared brief data about two phase 3 clinical trials fast tracked by the FDA looking at effectiveness of plazomicin to currently used antimicrobials.
The EPIC trial:  (Evaluating plazomicin in cUTI). This trial evaluated the use of plazomicin vs. meropenem  for the treatment of complicated enterobacteriaciae urinary tract infections and acute pyelonephritis. This study showed that plazomicin was superior to meropenem for microbial eradication on a test of cure (81.7%-70%), and that there were fewer relapses (1.8% vs 7.9%).
The CARE trial: (Combating Antibiotic Resistant Enterobacteriaceae). This was an open label trial of plazomicin vs colistin (combined with either meropenem or tigecycline) looking at mortality and safety with use of plazomicin. They showed a reduction of mortality or significant disease (as a composite endpoint) (23.5% with plazomicin vs 50% with colistin).  Additionally, the all-cause mortality was reduced with plazomicin (11.8% vs 40%).
Finally, Dr. Cawcutt discussed future research opportunities surrounding the utilization of plazomicin for critically ill patients to assess further potential clinical uses among this high risk, high morbidity and mortality patient population.