The Society of Student Run Free Clinics hosted its national meeting on January 30-31 in Phoenix, Arizona. The two-day conference consisted of workshops, poster presentations, and oral presentations where students had the opportunity to present their clinic models with student-run free clinics from various institutions.
Twelve UNMC students made up part of the 550 attendees where eight UNMC students presented posters. Two pharmacy student were also selected to make one of the coveted oral presentations while a UNMC student poster presentation was selected for the online student run free clinic journal.
Brian Coburn, an UNMC medical and PhD student, was installed as National Coordinator of the Society of the Student Run Free Clinics.
In addition, the Student Run Free Clinic Faculty Association was formed from a group of faculty who have met informally over the last five year.
Two faculty members from the Department of Family Medicine hold founding positions with the organization. Bill Hay, MD, serves as treasurer while Audrey Paulman, MD, MMM, was elected as a director of the organization.
The inter-professional faculty leadership of this organization consists of one internist, eight family physicians, and representation from nursing, physical assistants, and pharmacy. The faculty leadership represents ten institutions from eight states. The membership consists of people from 16 states and Canada, with plans to increase membership across the country.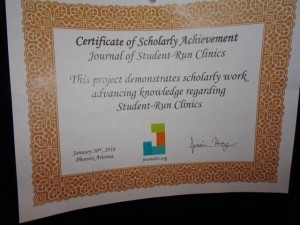 Thank you to Dr. Audrey Paulman for her contributions to this post.