UNMC has teamed up with Lyft to make late night travel safer and easier. Rides will be available after hours seven days a week within our campus geo-fence, which falls within the boundaries specified on this map: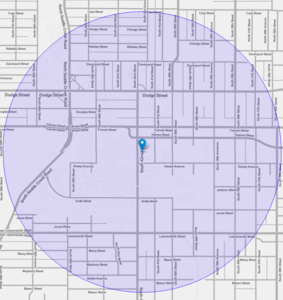 Students can request rides and pay using Lyft credits. In order to use this service, students will need to sign up here and then follow the instructions below: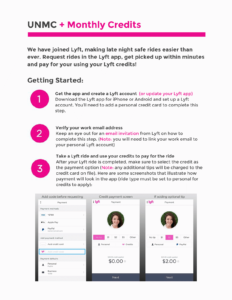 Safety Escorts
If you are experiencing an immediate imminent threat to your safety and you believe a safety escort would assist you in your safety planning, please contact dispatch at 402-559-5111 and request to speak with the on-duty supervisor.  The on-duty supervisor will be able to assist you in getting an escort approved for that day and assist with other safety planning measures as well.
For any long term needs for a safety escort, please your request to the UNMC Public Safety Office at unmcsecoffice@unmc.edu.  Please include the following, if applicable:
Brief overview of situation
Case number(s) if there is an associated police report with your request
Time frame in which you anticipate the need for an escort
Your normal work hours
Your assigned parking lot
The primary location on campus where you work