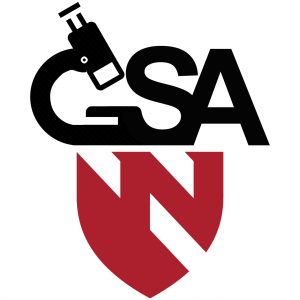 As the representative body for graduate students at UNMC, the Graduate Student Association (GSA) advocates for graduate student interest across campus. Read the GSA Constitution to learn more about our organization. Throughout each semester, GSA hosts social events, seminar speakers, and workshops to aid students in their professional development. Look for fliers in your respective departments and email reminders as these events approach!
Everyone is welcome to attend our meetings and become involved in GSA. The success of this organization depends on your participation! We encourage you to be proactive and contribute towards the development of our organization and the university. We value your input so please voice your opinions to make positive changes in the graduate studies program.
With GSA, you can enjoy the fellowship of graduate students from across the university. Graduate students often find that in their highly focused – and sometimes solitary – studies, they miss the larger social circle they knew during their undergraduate experience. At GSA events, students build close relationships with one another as they share both triumphant and frustrating experiences. Here are other reasons students have provided:
"Having contacts on campus is useful for forming study groups, borrowing lab materials, learning research techniques, seeking information, and more"
"Senior students that I met through GSA have given me invaluable advice and guidance about graduate school"
"Through GSA I have been able to stay informed not only on issues regarding graduate students around campus but also opportunities and deadlines specifically for us"
"I've learned so much about different career paths such as academia, industry, business, consulting, government, and numerous other fields at GSA seminars"
"Actively participating in GSA has helped me understand how the organization works so that I was better prepared for being an executive member"
"Other graduate students and I formed abstract and thesis proofreading and CV writing sessions and also got together to practice for interviews after meeting through GSA"
"I've enjoyed many fun GSA sponsored activities that also have food and beverages at high discounts – they've been great opportunities to get to know my peers outside of school"
If you would like to participate, please attend our Monthly Meetings, which occur on the 2nd Thursday of every month from 12 PM – 1 PM in the DRC I Auditorium. If you encounter a problem or concern, please bring it to our attention at a monthly meeting, or contact the GSA Board so that it can be addressed.