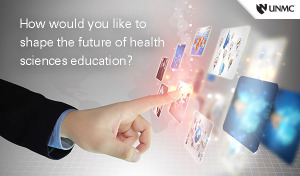 The Offices of Academic Affairs and Faculty Development are happy to announce the expansion of their E-Learning Program. All UNMC students are invited to submit proposals for the development of e-learning modules to be used primarily to supplement learning in UNMC classes.
The topic can be anything covered in the UNMC curriculum. The module can be a game, app, video — whatever interests you and is a great teaching tool! Plus, faculty collaborators can help you turn your ideas into great learning products.
A campus-wide steering committee will review proposals and award 5 individuals or teams $1,000 for each module developed. (Tip: Preference will be given to interprofessional collaborative teams.)
A meeting will be held on Thursday, Dec. 4, in the e-learning lab on the 8th floor of McGoogan Library. Then, complete the e-learning application to submit your proposal.
Submission Deadline
Jan. 12, 2015
Award Notification Date
Students will receive letters by Jan. 30, 2015
Project Completion Date
April 30, 2015
For more information and to download the e-learning application, visit: https://unmc.edu/cce/elearn.htm
Still have questions?
Contact Lilibeth Goode, the e-learning project coordinator.