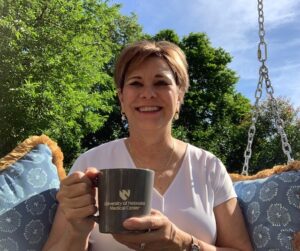 Theresa Olsen, President 2021-2022
WELCOME!  As one of the oldest sanctioned clubs on the UNMC campus, we're glad you're checking out our twofold mission:  fostering social relationships and raising annual scholarship dollars for our five health sciences colleges.  In addition to our core interest groups, we offer a series of on-campus speaker luncheons and other special events.
What I appreciate most about UNMC/FWC is the fusion of rich Big10 Faculty Women's Club tradition with contemporary realities–meeting people's need for socializing and providing opportunity for diverse volunteer leadership.  We have FUN!
BE OUR GUEST!  If you see an event that interests you, e-mail facultywomensclub@gmail.com so we can answer your questions, or, we would love to have a coffee with you!
Leading our 101st Year,
Theresa Olsen, President