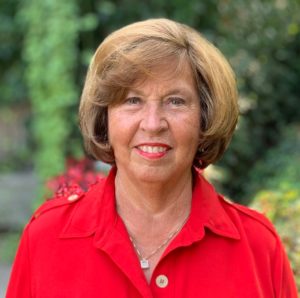 Barbara Hurlbert, M.D., President 2020-2021
I would like to welcome all of our old and new members to this exciting year for our organization.  I am so pleased to continue as the President of the University of Nebraska Medical Center Faculty Women's Club for 2020-2021.  This is our organization's 100th anniversary year!  Since our formation on June 1, 1920, the Faculty Women's Club has supported the health professionals of the future through its annual fund raising and scholarship program.  Because of the generosity of our members and the Medical Community, we have raised hundreds of thousands of dollars to help our students in both the undergraduate and graduate Colleges at the University of Nebraska Medical Center.  Financially supporting our students has always been paramount to our organization, however fellowship has been the heart of our organization.
Although there is a lot of uncertainty about this Fall and next Spring with the COVID-19 pandemic and our possible need to "Shelter in Place" again, our Executive Committee Officers, our Board and our Interest Group Chairs have continued to plan activities for the coming year.  I hope we will all be able to come together soon and enjoy all the things that have been planned in our new "normal" world.  Until then, we will need social media and email to stay connected.
Our noon luncheon meetings at UNMC give us an opportunity to not only socialize but to learn from our guest speakers on many varied topics. Thanks to Joan Zetterman, our Luncheon Chair, and Sara Crouse, our Program Chair, for making plans for the 2020-21 UNMC luncheons and speakers.  Our Holiday Tea and silent auction will again give us a chance to bid on many lovely handmade creations while sampling the "goodies" of the Christmas season.  This Holiday Tea always proves to be a fun event and an excellent means of adding to our scholarship money.  Our Spring luncheon gives us a chance to step out away from the University and do something different each year.  This years' luncheon is in the planning stages with more information to follow.  I want to thank all the members of the Gala planning Committee for continuing to plan a special time this coming year to celebrate the 100-year anniversary of our organization.  As soon as plans are complete, we will be sending out announcements to all.
Our Yearbook, thanks to Linda Chee, lists the dates and locations of all our social activities and the meeting times of our special interest groups and contact phone numbers for each of the Interest Groups. If you have not joined one of our special interest groups, this year is the time to consider making that step. There is something for everyone in exploring the arts, in sharing dinner with the members of the dining-out group, in preparing gourmet dinners with your spouse and the gourmet group "chefs", hitting balls with the Pickleball members and sharing "pot luck" dinner with them, chatting while being creative with our needle art group, and in discussing excellent books with our book club members. This year we are looking forward to adding several new Interest Groups:  an evening Book Club, an Outdoor walking/hiking group and an after-work Wine and Cheese Get-together.  Thanks to our Marketing Director, Theresa Olsen, our UNMC FWC blog and our FWC Facebook accounts are kept up to date on all our activities for the year, so check them both out!  Our website is www.unmc.edu/fwc and our Facebook account is www.facebook.com/groups/UNMCFWC.
In our ever-expanding Medical Center, it is essential more than ever to have an organization like the Faculty Women's Club to promote camaraderie and a sense of community. Thanks to the continuing effort on the part of our members, the Board and Chairs, we will continue to strive to build a sense of community on campus. We invite new members to join us in promoting and fostering friendships across the campus. I hope to see many new members this year and I encourage us all to reach out to our colleagues and friends to join us in our 100th anniversary year.