Special Interest Groups
FWC's Interest Groups are the heart of our organization!  These groups cover a range of shared activities that promote learning, health, fun, and friendship.  Ask any one of our members and they'll tell you some of their deepest relationships have come from the comraderie in FWC Interest Groups!
Here's the lineup to get started this 100th Anniversary year (practicing Covid-19 safety measures):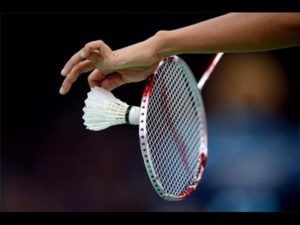 Badminton/Pickleball
This group meets the first Sunday of each month from 3:00 to 5:00 P.M. at the UNMC Center for Healthy Living, if open, or at an outdoor location.  Spouses are included and co-ed teams are encouraged.  Both badminton and pickle ball are set for play.  All levels of play are welcome.  Afterwards, members rotate to host a potluck dinner.
At this time, meeting dates are pending Covid-19 update.
The Coordinator is Elizabeth Rupp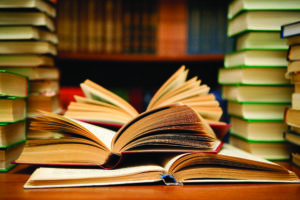 Book Club DAY
Book Club DAY meets the 2nd Wednesday of each month, hosted by a rotating roster of members.  Upcoming outdoor (or Zoom) meetings are scheduled for 1 PM Sept 9, Oct 14, and Nov 11.  Refer to the selected readings on this website page entitled "DAY and EVE Book Club Selections 2020-2021".
Co-coordinators are Pam Hamel and Marge Woodman
Book Club is a great way to experience a variety of literature, contemporary and classic, and to get better acquainted by sharing the ideas in each month's selection.  New participants are always welcome.
Book Club EVE
Book Club EVE meets the 3rd Thursday of each month from 5:30-6:30 PM, hosted by a rotating roster of members.  EVE Book Club will be meeting by Zoom until Omaha Public Libraries re-open when we will gather at a branch near the UNMC Campus.  Books will be selected and posted after the initial group meeting by Zoom at 5:30 PM Aug 20, 2020. Refer to this website page "DAY and EVE Book Club Selections 2020-2021". Future meetings will be on 3rd Thursdays at 5:30 by Zoom until Omaha Public Libraries reopen.
Coordinator is Theresa Olsen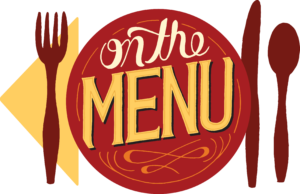 Dining Out
Dining Out meets on the 3rd Saturday of each month at 6:00 PM at selected restaurants.  Stay tuned for details about events scheduled for Sept 19, Oct 17, (no Nov or Dec 2020), Jan 16, Feb 20, Mar 20, Apr 17 and May 15, 2021.
The Coordinator is Sara Crouse.
This group is for members and spouses who enjoy an evening out with friends. The group wines and dines at various restaurants in Omaha and surrounds.  Currently locations are limited to venues with outdoor patios. You'll be notified of the restaurant selection a month in advance, so you can decide if you want to give it a try.  We order from the regular menu. During our first four years, we've gathered at 25 different restaurants and sampled the wide variety of foods that Omaha offers.
If you enjoy an evening of fun people and great food, Join us!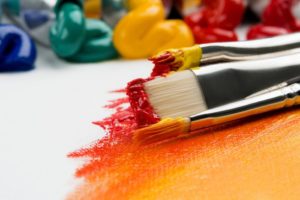 Fine Arts
Fine Arts group members attend 4-5 outings per year to art-related venues and exhibitions of interest to the group.  The first meeting is scheduled for Sept 15 at 1 PM.  Watch your e-mail for event details.
The Co-Coordinators are Marge Woodman and Marge Boska.
Join us as we explore the varied art world in Omaha and surrounding communities. From a walking tour of South O's architecture, to traveling exhibits at the Joslyn, to road trips to Malvern, Iowa and Lincoln, we seek opportunities to experience the visual arts and beyond. Times vary according to the activity.  Future events will be announced.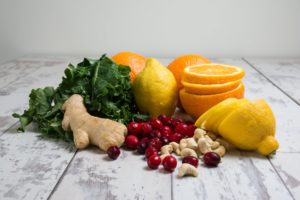 Gourmet Club
The Gourmet Club meets 4-6 times per year hosted at rotating member locations.  Spouses are included in the gatherings.  The first event this year will be held outdoors on September 26, 2020.  Check your e-mail for details about this event, and future dates.
Coordinators:  Belinda Greiner and Susan Mathers
Gourmet members share meal preparation tips and learn new culinary techniques while enjoying an evening of socializing.  Over the years we've sampled a wide variety of cuisines and enjoyed the diverse culinary talents of the group. Don't let the name scare you, the emphasis is on a good party.  Bon Appetit!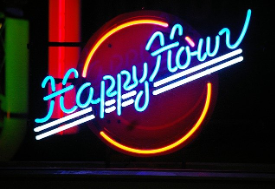 Happy Hour Club
Our NEW monthly Happy Hour Club was established to provide an opportunity for after-hours socializing for members and spouses, and to grab a potential member to come along to learn more about Faculty Women's Club and meet some of our friendly members.  The first event this year will be held September 10 from 5:30-6:30 PM.  Check your e-mail to register for this limited size event.  Future outdoor/patio locations will be announced, usually meeting for one hour.
Coordinators:  Keith and Theresa Olsen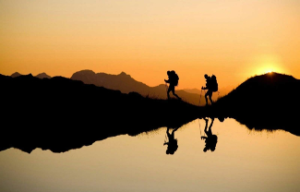 Hiking Club
This NEW Club launches this year to take a hike with fellow members and spouses at local trails.  Hiking Club will meet each 2nd Saturday at a determined time, with more optional social time outdoors following.  Trail selections will include both gentle and challenging options, as well as dog-friendly choices.  Remember to invite a potential member to join us!  Hiking Club's first event this year will be held August 8 at 8 AM.  Check your e-mail for details coming to members regarding upcoming hikes on Sept 12, Oct 24 (for Indian Cave State Park fall foliage), and Nov 14, 2020.  The group plans to stay on local trails through the winter months.
Coordinator:  Laura Bilek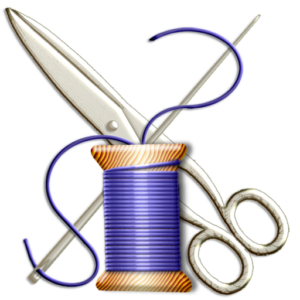 Needle Arts
Needle Arts meets on the 1st and 3rd Tuesdays 9:30 – 11:30 AM hosted by rotating members and occasionally at the Regency Paradise Bakery.  Needle Arts first meeting this year will be a patio event on Sept 1 at 9 AM.  Additional meeting dates are Sept 15 at 1 PM, Oct 6 and 20, Nov 3 and 17, Dec 1 and 15, 2020 and Jan 5 and 19, Feb 2 and 16, Mar 2 and 16, Apr 6 and 20 and May 4 and possibly May 18, 2021.  Check your e-mail for additional details to group members.
Coordinator: Claudianna Todd
Bring your handiwork, UFOs (unfinished objects) or whatever you're working on, and join in for a morning of stitching and conversation.  This casual gathering includes novice and accomplished knitters, quilters, beaders, embroiderers, crocheters, etc.
Need inspiration? This group is for you. You will find it here. Join us.