Speaker Luncheon Dates:
September 23, 2020  12 noon via Zoom (watch for passcode soon)
Speaker:  Dr David Crouse, "Stem Cells:  Some Established Facts and Some Untested Clinical Fantasies".  This talk will help to clarify the unscientific, direct-to-consumer marketing of stem cell treatments to vulnerable patient populations in Omaha and across the country.  Dave is the current President of the Nebraska Coalition for Lifesaving Cures.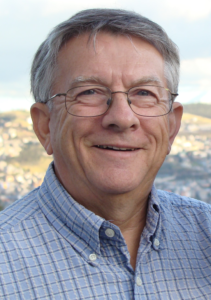 October 28, 2020  
Speaker:  Cherrie Beam-Callaway, Humanities Nebraska, "Promise in a New Land:  Migrating and Settling in Nebraska", a first-person Chautauqua-style presentation transporting us back to 1847-1870.  Location TBA
January 27, 2021 (speakers may select different dates)  
Speaker: Dr Charity Evans, Chief of the new UNMC Division of Acute Care Surgery, "Dusk to Dawn:  A Hospital Based Youth Violence Prevention Program"
Location TBD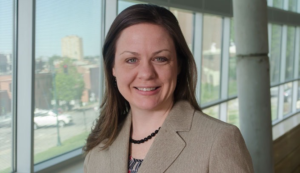 March 24, 2021 (speakers may select different dates)
Topic:  New Adult Psychiatric Emergency Services opening in September, 2020.  See https://www.unmc.edu/news.cfm?match=25851
SPRING PROGRAM/INSTALLATION OF OFFICERS Event (Self-Pay)
May 26, 2021 Evening (Time TBA), Guests encouraged
Speaker/Author Sasha Shillcott MD, Professor, UNMC Cardiac Anesthesiology "Between Grit and Grace:  My Journey to Lead"
Location All Saints Episcopal Church Retreat Center, 9302 Blondo Street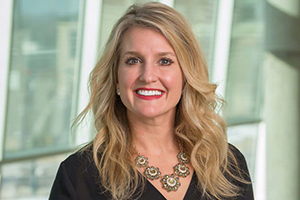 UNMC Faculty Women's Club 100 Year Celebration
This event has been postponed.  Stay tuned for rescheduling.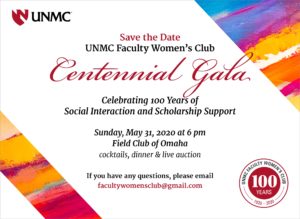 Annual Holiday Tea and Scholarship Silent Auction
Date: Wednesday, December 9, details to be Announced