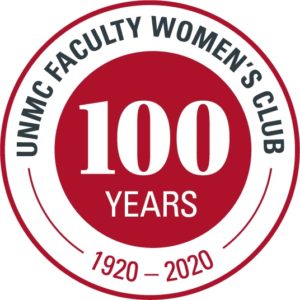 Hello and Welcome!
Since May of 1920, the Faculty Women's Club at the University of Nebraska Medical Center (UNMC) has provided and promoted social connections and leadership opportunities for women throughout our ever-expanding medical campus, while supporting student scholarships. To date, our dedicated members have raised hundreds of thousands of dollars for scholarships given to students in all colleges at UNMC.
You will find our Interest Groups are the "heart" of our organization. Interest Groups provide a chance to meet and build what our members refer to as "lifelong relationships". As a member, you are free to choose which or all you want to participate in each year. Additionally, member paid speaker luncheons and special events are offered throughout the year, including our traditional holiday get-together where we mix fun with generating more scholarship dollars by a silent auction of handmade items.
Membership in the Club is open to those women who hold Academic or Administrative Appointments at UNMC or whose spouses hold such appointments. Spouses of the Regents of the University of Nebraska are honorary members. All who have been members of the Club at any time may continue their membership.
If you would like more information after viewing the pages on this website, please contact our our current President at: mgallagher@unmc.edu .
Or download our application and apply today.