UNMC Faculty Women's Club Noon Luncheon Meeting Programs 2015 – 2016
All luncheons start at 12 noon and are held at one of the 3 UNMC private dining rooms.
Upcoming Events
January 30th, 2016   Winter Social
Faculty Women's Club

Invites You To The

Annual
Winter
Social
January 30, 2016

6:00 p.m. to ?

104 Fifth Street
Malvern, Iowa

Come join us at Fine Arts on Fifth in Malvern IA for wine and hor d'oeuvres at 6:00 pm before we stroll to our dining destination at the Classic Café' around 7:00 pm. There we will dine on your choice of:

Chicken Stuffed with Gouda and Bacon, Oven Roasted Pork Loin, or Salmon. All meals are accompanied by salad, mashed potatoes, vegetables, rolls and cheese cake.

Cost: $35 Checks payable to Marge Boska

 Please send your checks and dinner choices to Marge no later than JANUARY 27! Her address is:
54216 Elrod Rd., Glenwood, IA 51534

In case of inclement weather, those coming will be contacted. A snow date of February 6th has been scheduled.

Directions: From Omaha, take 80 East to 29 South. Take Hwy. 34 East to Malvern. Right at Malvern turn (which becomes Main St.). Left on Fifth.

Questions: Please contact Marge Boska at mboska@msn.com

or 712-527-4775

 

 
Pictured from left to right are Susan Mathers, Belinda Greiner, Pat Lueschen, and Anne Moore.  These members enjoyed the Winter Social event described above.
March 23, 2016                                   Noon Luncheon/Program/Meeting         UNMC PDR
Vincent Carlson-Brown, NE Shakespeare
"Shakespeare: Theatre, Language and Cultural Impact after 4 centuries"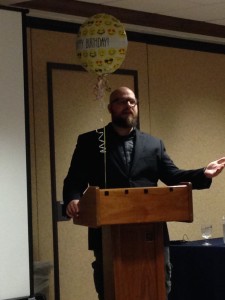 FWC began celebrating our 96th year of existence – note the balloon on the podium – with an entertaining presentation on Shakespeare at this March noon luncheon.  Pictured above is our speaker, Vince Carlson-Brown.
May 18, 2016                          Spring Luncheon,  Noon                                     Omaha Press Club

1620 Dodge Street, 22nd floor
Speaker, Tom O'Connor
Tom is the Senior Associate Director of Public Relations  at UNMC and also President of the Omaha Press Club.
Tom will speak to us about the role of the press at UNMC and in Omaha.
Incidentally, Tom is the most recent inductee into the Press Club Hall of Fame with his "face on the bar room floor."
MENU
  Thunderbird Salad with choice of
                                                                         Thai Glazed Salmon or Chicken
                                                                            Price of the lunch is $20.00                                                                     Make checks payable to Pat Leuschen
                                                                                  at time of reservation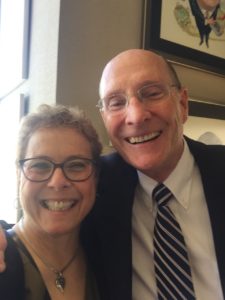 Sandy Gordon pictured with guest speaker, Tom O'Connor.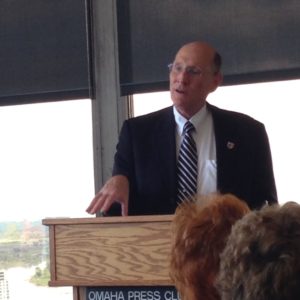 T0m O'Connor
Senior Associate Director of Public Relations at UNMC giving his presentation to the FWC luncheon guests at the May Spring Luncheon.  Tom regaled us with stories about the evolution of his career and the many changes he has seen since joining the  UNMC "family."  He has had the opportunity to cover many exciting news stories during his career and while most were positive events, there have been a few that required more then a little reporting finesse.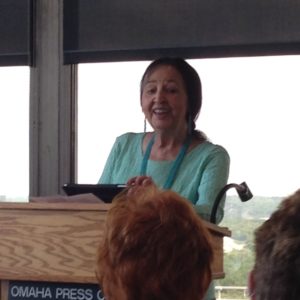 Outgoing FWC president, Joni Stinson, giving her farewell address to the luncheon guests.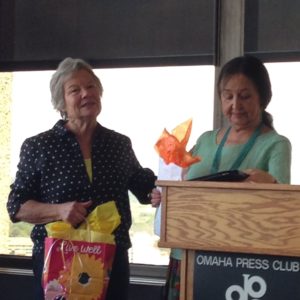 Incoming president, Sharon Mendlick presenting Joni with a thank you gift.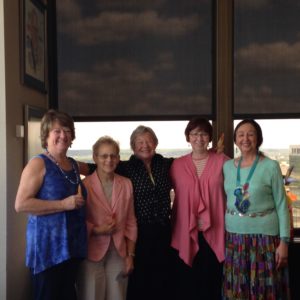 New 2016 -2017 FWC Executive Committee Board members
Left to right:  Ann Moore, Sara Crouse, Sharon Mendlick, Mary McBride, and Joni Stinson