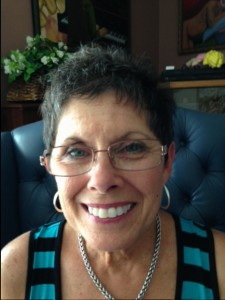 WELCOME
FROM THE PRESIDENT, MARGE WOODMAN
It is my pleasure to welcome you to the new year of Faculty Women's Club!
As a new arrival several years ago, I have so much appreciated the friendships and inclusiveness found in this organization.  What a dynamic, vibrant, and capable group of women!  It is a delight to participate and an honor to serve.
Such a good year lies ahead!  Sharon and Sara have wonderful programs planned.  Our winter social will be festive and memorable with Mary and Belinda at the helm.  All the interest groups sound fun to me, and I know there are definitely one or two for you as well.  With the holiday tea auction, raffle tickets, and scholarship letter fundraiser, we will be challenged to again provide thousands of dollars for UNMC student scholarships.
We look forward to this year with happy anticipation.  We have the opportunity to broaden our worlds, enjoy friendships old and new, develop new skills, and ease the financial burden for a number of UNMC students.  What a deal!
Thank you for your participation, assistance, and your smiles.
Margery Woodman
President 2013-2014
Mid-Winter Greetings
Hi FWC friends,
It's the morning after the Big Snow – and quite nice here in the House!
I am looking forward to the Winter Social at the Greek Islands on February 15 and thank Mary and Belinda for organizing it.  Bringing wedding photos is such a fun idea and it will be interesting to see if we recognize ourselves!  I sure hope you're planning to attend.  Reservations are being accepted until February 10.
The scholarship fund raising letter is out, thanks to Janelle and Nancy.  Please consider an even more generous donation this year, as student costs have risen, and, also, we have added another scholarship with the College of Public Health.
Unbelievably, it's time to start thinking about next year, with just one "regular meeting" remaining, in April.  If you did not volunteer for a committee chairmanship or officer's job at our last meeting, please consider doing so.  This organization runs so well, due to the combined efforts of its skilled and generous members.  Please think about what you'd like to do to help next year go smoothly.
Filling the presidency is particularly important, as we have no president-elect.  Many members have a similar situation, with limited time, out of town trips, family and other community commitments.  I have found this job less time consuming than other presidency positions I have held and am so impressed with the high level of reliable expertise from all the board.  If you are so inclined to consider the presidency, please know it is not as time consuming or threatening

as you may have assumed.
Looking forward to the social, the April meeting, and the May Spring Luncheon!
Stay warm,
Marge
New member information
Denise Britigan (Bradley) Denise (College of Public Health)
Bradley (Dean of College of Medicine)
723 N. 57th Street
Omaha, NE 68132
402-884-0185
cell 513-582-6512
Active I
britigan@cox.net
Marylee Moulton (Michael) cardiothoracic surgery)
2035 S 181st Circle
Omaha, Ne 68130
402-884-0811
Cell 520-990-5944
5moultons@gmail.com
Active I
Group interest: Fine Arts
Mary McBride (Joe) radiology
815 So. 94th Street
Omaha, NE 68114402-397-0977
Cell 402-972-5414
rudymcbride@yahoo.com
Active I
                                                                         Faculty Women's Club Newsletter
March 26, 2014
President's Message
I am happy to report that our slate is Almost filled for the coming year! I would like to give my heartfelt thanks to Pat Leuschen, who will be next year's president, and to Joni Stinson who will be president-elect next year. You might send them a message of thanks, because it is so generous of them to agree to serve in these capacities.
At this time, we have an opening for Program chairman. Publicity chairman and Communications chairman are under consideration by two members; I certainly hope they say yes.
Program Chairman is actually a fun job! I've enjoyed it the two times I did it. It involves selecting interesting speakers, contacting them and then reminding them when the date gets close. Audio-visual needs needs must be relayed to the luncheon chairmen. Then introduction at the meeting, having the honorarium or gift ready, and a note of thanks. Sara Crouse, one of last year's chairmen said she has a number of ideas for next year, so that would give the new chairman a head start. Please consider serving in this capacity if you do not have a job already. My number is 402-991-9730. Cell phone 402-321-6025. mswoodman47@gmail.com.
Thanks again to Mary Yonkers and Belinda Greiner for planning a wonderful evening for the winter social. The meal at Greek Islands was delicious, and the wedding photographs were…priceless.
Our next meeting is April 23, at noon, at the UNMC Private Dining Rooms. Our speaker is John Jeanetta, President and CEO of Heartland Family Services. His talk is entitled "Omaha: Stimulating Positive Change to Enhance an Already Wonderful City". It'll be most interesting!!
Our final event of the year is the Spring Luncheon to be held May 21, at the Oak Hills Country Club, 12325 Golfing Green Drive. Our program will be entertaining and tasty, learning the fun applications of the great variety of Olive Oils at Chef2. I hope to see you at both upcoming events!
With any luck, the weather will actually become spring-like and we can thoroughly enjoy these spring time events.
And finally, many, many thanks to the efficient and gracious work of all the officers and board members this year—what a wonderful group of women! It has been a privilege to work and play with you all.
Marge Woodman
NEW MEMBER INFORMATION
Dr. Nancy Woelfl
16717 Marcy Circle
Omaha, NE 68154
402-333-7868
nwoelfl@unmc.edu