UNMC Faculty Women's Club Noon Luncheon Meeting Programs 2014 – 2015
All luncheons start at 12 noon and are held at one of the 3 UNMC private dining rooms.
Upcoming Events
May 20, 2015  Spring Luncheon and Installation of Officers
General George Crook House Luncheon and Tour, Ft. Omaha Campus
FWC SPRING LUNCHEON
and
INSTALLATION OF OFFICERS
Noon
Wednesday, May 20, 2015
General George Crook House
5730 No. 30th Street
 Luncheon followed by Historic Tour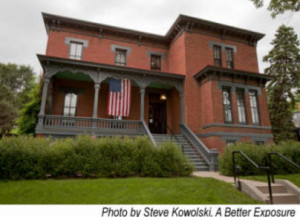 General George Crook commanded the Department of the Platte from 1875 to 1882, and from 1886 to 1888, with headquarters at Fort Omaha. In 1879 he spoke on behalf of the Ponca tribe and Native American rights during the trial of Standing Bear v. Crook, in which the federal judge affirmed that Standing Bear had some of the rights of US citizens. The house was completed in the same year. The General Crook house was listed on the National Register of Historic Places in 1969 and was named a Nebraska State Historical Site in 1970.
 Please RSVP by May 11, and if yes,
Mail your check for $20 to:
Marge Woodman (as listed in the yearbook)
---
March 25, 2015
Krystal Boose, Training and Recruitment Coordinator, CASA for Douglas County
"CASA:  providing voices for abused and neglected children within the court system"
Hostesses:  Janelle Davis and Mary Beth Gust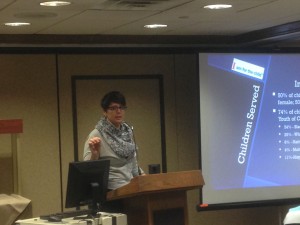 Kim Thomas, pictured above, is the Executive Director of CASA and was part of a presentation about this organization and its mission in the community. Privately funded and in place in Omaha since 1988, this organization has worked tirelessly to "provide a voice for children in a court setting."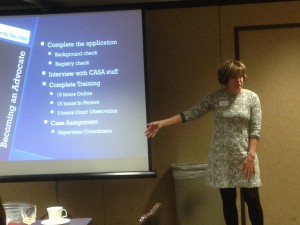 Cris Watson, Training and Recruitment Coordinator for CASA, concluded the presentation with remarks about the "advocate's" role and how one might become a volunteer advocate.
---
Previous Events
September 24, 2014
Mace Hack, State Director Nebraska Chapter of the Nature Conservancy
"Conserving Our Natural Heritage":  The Nature Conservancy's work in Nebraska
Hostesses:  Marge Boska and Pam Hamel
October 22, 2014
Mandi Krebs, Interactive Animal Programs Director at Omaha's Henry Doorly Zoo and Aquarium
"Animal Training for Guest Engagement" Presentation on the interactive animal program at Henry Doorly Zoo & Aquarium.
Hostesses:  Sharon Mendlick and Claudianna Todd
December 10, 2014  Holiday Tea And Silent Auction
11 AM to 1 PM at the home of marge Woodman
1727 Douglas Street, Omaha
Hostesses:  Belinda Greiner and Patti Sparks
January 28, 2015
George Behringer, Chairman of Omaha Sister Cities Association 50th Anniversary Planning Committee
"50th Anniversary in 2015 of the Omaha Sister Cities Association"
Hostesses:  Darlene Anderson and Joni Stinson
February 21, 2015
Saturday Evening
Winter Social Joslyn Castle 6:30 PM
Murder Mystery Dinner
Winter Social (really!)!
a.k.a.
Joslyn's February Murder Mystery Mayhem!!!
Call Marge Woodman to see if reservations are still available despite having past the original deadline.