The Outstanding Partnership Award is presented to an individual, team or institution which demonstrates inspiring collaboration in service of our mission and our community. It began in 2019, and each year, the Department of Psychiatry leadership picks five local people or organizations for the award.

This year's recipients are Nathalie Khoury, MD, and Marco Olivera-Martinez, MD; Jennie Edmundson Hospital; Radius Team; Community Alliance Rapid Response Team and Ross Monastero, CPSS; and the Sarpy County Sheriff's Office and Bellevue Police Department.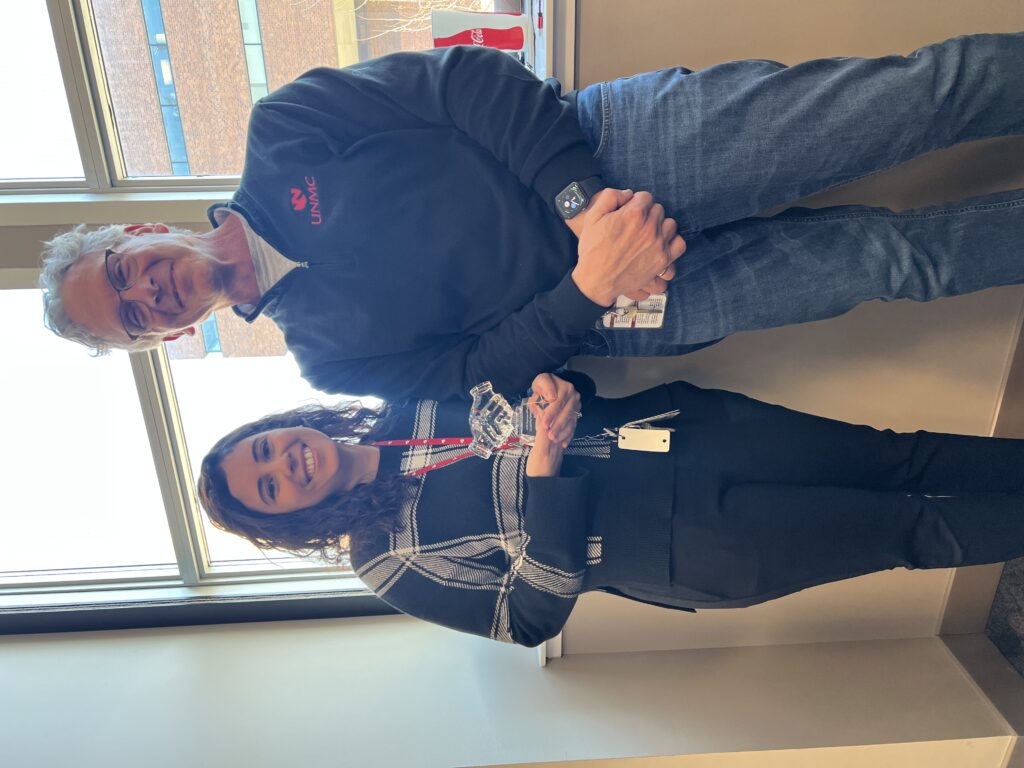 Ken Zoucha, MD, is the Department of Psychiatry Addiction Division Director. He nominated Dr. Khoury and Dr. Olivera-Martinez because of the collaboration with the Department of Psychiatry's addiction medicine and addiction psychiatry faculty and the alcohol hepatitis program.

"We see the priority on our divisions' assessments of their patients in the outpatient and inpatient realm. This collaboration was so important to this team that we have developed a one-month rotation for the hepatology fellows with our addiction division with the understanding that hepatologists will be better physicians if they understand alcohol use disorder as a disease and recognize the interaction strategies that are necessary to successfully treat these patients in a compassionate, holistic way," Dr. Zoucha said.

Ashish Sharma, MD, is the Department of Psychiatry's Adult Inpatient Division and Director of Psychiatric Emergency Services. He nominated Jennie Edmundson Hospital for their work with the PES.

"They are a great partner for the PES," Dr. Sharma said. "They're pleasant people to work with. The staff at Jennie Edmundson is easy to deal with and very professional."

Howard Liu, MD, MBA, is Chair of the Department of Psychiatry. He nominated the Radius Team with Nick Juliano, PhD, for Radius's incredible vision, teamwork, and grit to build their facility, engage champions, and recruit a team with trauma-informed principles that will transform the lives of justice-involved youth in Nebraska.

Jennifer Sparrock, PES Manager, nominated the Community Alliance Rapid Response Team, Sarpy County Sheriff's Office, and the Bellevue Police Department for their work with the PES. Sparrock said the Sheriff's Office and Police Department go the extra mile for individuals in Sarpy County by making the long drive to Nebraska Medicine so individuals have access to emergency psychiatric treatment.